Powerful LED flashlights for your outdoor experience
In addition to uniform illumination, outdoor flashlights and headlamps produce a focused beam of light that easily lets you find the next trail marker when you're hiking at night.


Do you need a high-intensity LED lamp for situations where weight and size aren't important?
Do you prefer a rather lightweight model that you can carry in your jacket pocket?
Does your outdoor flashlight need to be waterproof and extra shockproof?
Do you want to keep your hands free when you're lighting up an unfamiliar hiking trail?
What is an outdoor flashlight and what are the advantages of each type?
The variety of bright and ergonomic flashlights is as diverse as the requirements for outdoor activities. What all outdoor flashlights have in common is that they're made especially for outdoor use.

Compared to an everyday carry flashlight, a good outdoor flashlight has a more robust design. An LED flashlight for outdoor use is impact resistant, waterproof and durable. Features that contribute to the long life of an outdoor flashlight. An everyday carry flashlight, on the other hand, is design for use around the home and for general use.

Read further to find out about the features that every LED outdoor flashlight should have.
Hard shell, strong core: what should you look for when buying an outdoor flashlight?
Maximum versatility, functionality and reliability are the decisive factors for all of your outdoor equipment. This is especially true for an outdoor flashlight, which you can always rely on for many reasons.
Size and weight: if you're hiking in the mountains with a backpack, the lighter your load, the better. This also applies to mountain bikers and runners who appreciate a lightweight and ergonomic headlamp.
Brightness: more lumens is better – however, the brightness of a good LED flashlight should also be fine tunable. As a rule of thumb, the brightness of an outdoor flashlight should not be less than 100 lumens.
Illumination range: a high illumination range is important for detecting people or objects at long distances. The light beam should also be focusable on as small a point as possible for several hundred meters.
Runtime: ideally, the battery charge on an outdoor flashlight should last for several days – especially if there is no opportunity to buy more batteries or to recharge batteries.
Power supply: even an LED flashlight or a headlamp with the longest battery life will eventually run out of power. Models that have a USB port and can be recharged via a powerbank, for example, are therefore ideal. Nature lovers also like to have a flashlight that uses rechargeable batteries and/or can be operated with conventional batteries.
Waterproof and shockproof: the higher the protection rating, the better, to keep water and dust from getting inside the LED lamp. A housing made of impact-resistant plastic or hard-anodized metal prevents damage from impact, and protects from corrosion and premature wear.
In addition to these essential features, outdoor flashlights and headlamps have useful extra functions. Ledlenser outdoor LED flashlights, designed in Germany, offer all this and more.
How much does an outdoor flashlight cost?
At Ledlenser, you'll find the right outdoor flashlight for your budget. For this reason, we always focus on the needs of our customers. Are you more interested in the equipment details or are you looking for a low-priced flashlight with a high luminosity of 600 lumens or more? At Ledlenser, you can a find good, low-priced outdoor flashlight for under 30 euros which is just like our fully equipped flashlight with a long illumination range of 800 meters and 40 hours runtime that costs 429 euros. Convenient: you can easily compare models in our store, so you can find the right outdoor flashlight for your needs.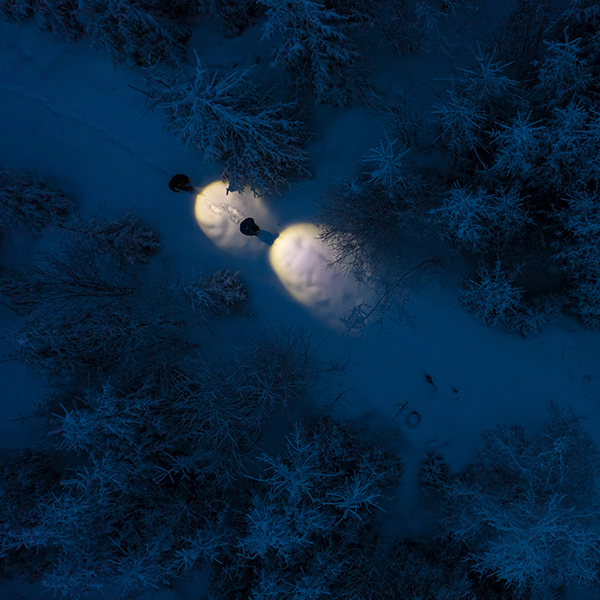 Outdoor flashlights in comparison – Signature series for extreme conditions
Maximum luminosity, a brightness of up to 4,500 lumens and high functionality: the Signature models in the Ledlenser P series are made for campers, anglers and hunters and for all performance-oriented nature lovers. The rugged design and high performance of our P-Series outdoor flashlights makes them highly recommendable for use in the open air.
Prices incl. VAT plus shipping costs
P6R Signature: an IP68 dust and water protection rating, mode switch with four freely assignable switch positions, a magnetic charge system and a hard-anodized housing
Prices incl. VAT plus shipping costs
P7R Signature: luminosity up to 2,000 lumens, Smart Light Technology for individual programming of the light functions and a red light feature
Prices incl. VAT plus shipping costs
P18R Signature: up to 4,500 lumens of powerful luminous flux, Advanced Focus System and Smart Light Technology
Outdoor headlamps: full flexibility with maximum luminosity
An LED headlamp lets you keep your hands free while hiking, when reading a map at night, or when you're putting bait on your hook. Our flexible Ledlenser headlamp models, such as those in our MH series, also support you when using the camping stove in the dark and when lighting a campfire. Compared to conventional LED lamps, the MH series weighs less and is more flexible.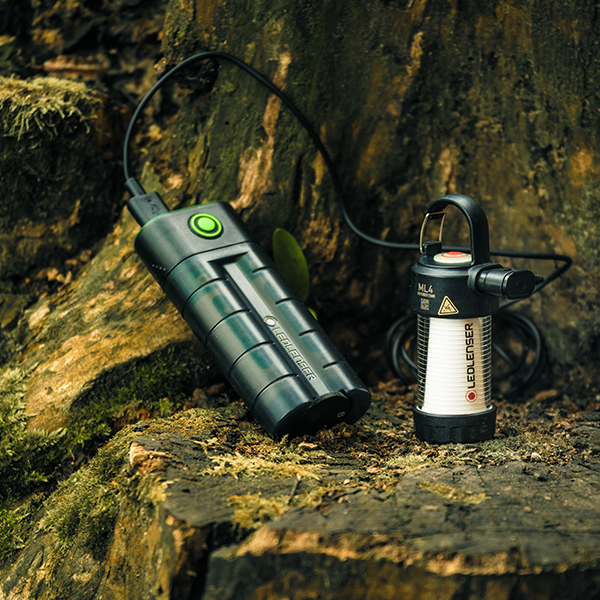 The perfect accessories: get the most out of your outdoor experience
For longer outdoor trips, you need a reliable power source in case your LED flashlight runs out of power. When there is no electrical outlet available to recharge batteries, portable power banks are the ideal solution for recharging your outdoor flashlight or your batteries. In the Ledlenser store, you can buy powerful conventional batteries and rechargeable batteries, as well as robust powerbanks and powercases as optional accessories.

The advantages of portable power storage units in comparison:


Powerbank: shock, water and dust-proof battery storage, chargeable via USB-C port
Powercase: contactless charging via Magnetic Charge System, safe storage for compatible Ledlenser headlamps, charges smartphones and other devices via USB-C port
Battery box: shock, water and dust-proof storage of batteries, and some models are equipped with a fast charging function for compatible Ledlenser flashlights.
In summary: light at the touch of a button for camping, hiking, hunting and fishing
Whether you need a LED flashlight for hiking, camping or other outdoor activities, the Ledlenser range offers the right model for every situation. We continuously adapt our award-winning models, which are equipped with a wealth of innovative features, to meet the demands of an active lifestyle. Whether you need a flashlight or headlamp for geocaching, running or extreme sports: in our store, you can buy one of the powerful signature models in our P-series, with a brightness of up to 4,500 lumens, and lightweight waterproof headlamps, at an affordable price. You can also buy accessories, such as compatible Ledlenser quality batteries.