Prices incl. VAT plus shipping costs
Prices incl. VAT plus shipping costs
Prices incl. VAT plus shipping costs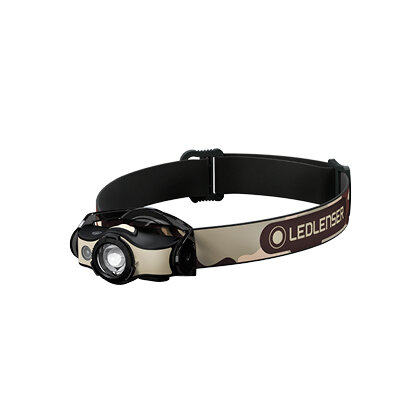 Prices incl. VAT plus shipping costs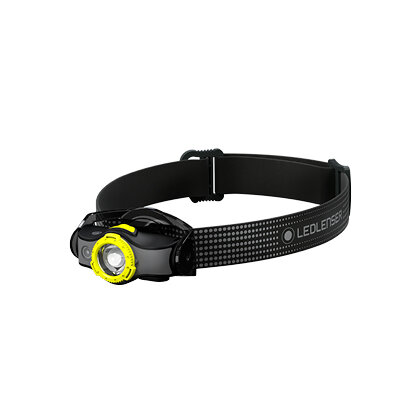 Prices incl. VAT plus shipping costs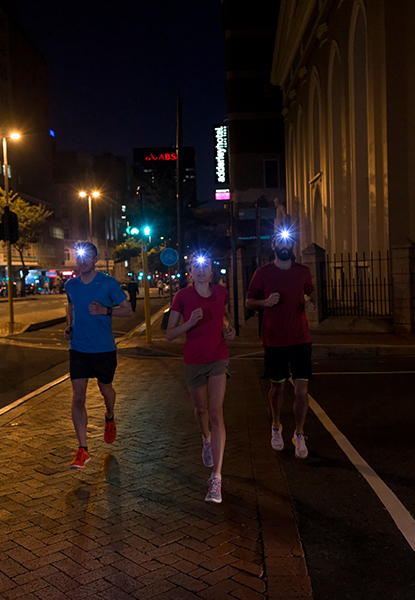 Why is a wearing a headlamp so important when jogging?
To see and to be seen – that should be your motto when you're jogging in the dark! Because the reason for wearing a headlamp isn't just to help you see better. Other runners and other people on the road, such as cyclists and car drivers, can also see you because you're wearing an LED lamp. This way, you can avoid accidents – after all, jogging is supposed make you healthier, not injure you. Wearing a headlamp is also good idea when running on lighted paths in the city. Many headlamps also have a light on both the front and the back. In any case, other people on the road will notice you much faster and you'll avoid collisions.

From your perspective, of course, a headlamp is very useful. You can see the path in front of you better and avoid tripping hazards. On dimly lit paths, and especially in complete darkness, you can always see where you're going. But isn't a flashlight good enough for jogging? Theoretically, you can also light your path with a regular flashlight. But if you do, then you can't move your arms the way you normally do when running. And if you trip, your hands won't be free to help break your fall. So, a flashlight is really a hindrance when jogging. A headlamp, on the other hand, always shines exactly where you're looking and also lights up your surroundings. This is a clear advantage!

What makes a good headlamp?
A good jogging headlamp must meet several criteria. This includes wearing comfort and weight, the range and brightness of the light, how long the battery charge lasts and the shape of the light beam. The headlamp should sit comfortably yet firmly on your head and illuminate your running route properly – and the battery shouldn't die after half an hour, because you might want to run for an hour.

How bright it should be, which battery run-time is ideal for you and how far ahead the light on your new LED headlamp should shine depends on where you plan to jog. Where do you run? Are the trails level, paved and well lit or do you literally run over hill and dale in the dark? Are you more of a short-distance runner or do you enjoy a really long run? All these points can help you decide which jogging headlamp is right for you.

How many lumens should the jogging headlamp have?
The lumens indicate the brightness of your lamp. The more lumens, the brighter the headlamp shines. For jogging, headlamps starting at 100 lumens will give you enough light. Ledlenser headlamps are equipped with long-lasting LED lights and let you jog safely in the dark. If your running route is not very well lighted, you may need an LED lamp with more lumens. You can use these values as a rough guide:
Brightly lit city runs: 100 lumens
Running on dimly lit paths: 100-300 lumens
Jogging on dark forest trails: 200-600 lumens
Trail running and running on unpaved trails: 500+ lumens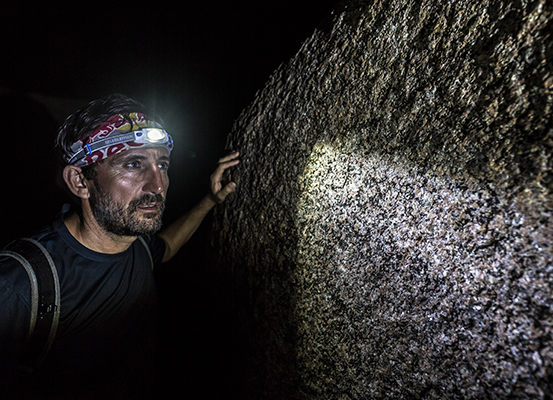 How important is the light cone of a jogging headlamp?
The light cone is what illuminates the path in front of you. It grows increasingly wider as the beam projects outward. Depending on how wide the light cone of your LED lamp is, you can clearly see the path in front of you, and you can also see what's beside you. Forward focus is important for seeing what's up ahead when you're running. However, when jogging, you should also be able to see everything that's directly in front of you and next to you. So, a spotlight is not very useful for running in the dark. The headlamps in the Ledlenser NEO series use Fusion Beam technology to provide perfect illumination for your run. The combination of different LEDs and lenses provides homogeneous close-range light and focused distance lighting at the same time. So, you always keep everything in view!

The best thing about this is that by adjusting the different dimming levels of the individual LEDs, you can adapt the brightness of your Ledlenser headlamp to your needs and to your running route. In addition, our Ledlenser jogging headlamps are also equipped with a tilt function. This means that you can set the light higher or lower from without having to move your head.

Does a running headlamp need to be waterproof?
Since it is a great idea to use a headlamp for jogging in the colder and darker months, it should at least offer protection against splashing water. This is because it often rains and snows during this time, but that shouldn't keep you from training in the fresh air. Early morning fog can also be a problem when wearing a running lamp which isn't waterproof. So, when buying your new running headlamp, look for the IPX certification. This certification indicates how much protection against water the headlamp has. IPX0 stands for no protection against water, IPX10 means absolutely waterproof. If you jog in the fall and winter, headlamps with the following IP classes are best:
IPX4: Protection against splashing water from all directions, usually only withstands fog, drizzle or snow.
IPX5-6: protection against splashes of water from all directions, IPX6 can withstand even a heavy downpour
IPX7: Protection against penetration of water during brief submersion
IPX8: Absolutely waterproof, also suitable for swimming and diving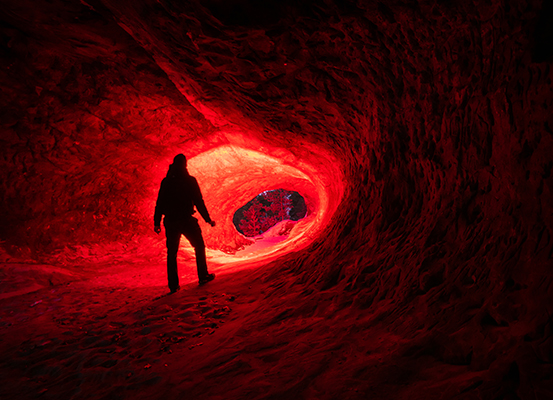 What is the advantage of having a red light on a headlamp?
In addition to the main white light, many headlamps also have a red light. The red light allows joggers to use night vision mode. This is because a red light is less blinding than a white LED light, thus ensuring that runners can see better in unlit environments. You can compare this to turning off the lights in the evening when it's dark. At first, you can't see anything. It takes a few seconds for your eyes to adjust to the darkness, so you can see again. You can avoid this problem by using the red light on the headlamp.
Lithium-ion batteries or standard batteries: which are better for headlamps?
The choice between lithium-ion batteries and standard batteries is a personal decision. A headlamp with a lithium-ion battery can be charged via USB cable before you go jogging. This way, you can light up the darkness while running with a fully charged battery. The disadvantage is that a jogging headlamp with a lithium-ion battery usually weighs more than the same lamp with a standard battery. When you use standard batteries in your headlamp, you must always check before running that you have enough of a charge remaining to provide light for the distance you plan on running. You can carry spare batteries, but some runners find this too inconvenient.

A compromise between a LED running lamp with a lithium-ion battery and one with a standard battery is rechargeable batteries. So you can enjoy the advantage of always being fully charged and having a lightweight headlamp while jogging. Our Ledlenser headlamp NEO9R, which is designed especially for trail running, offers you both options. The headlamp has an integrated battery compartment, but you can also insert a powerful lithium-ion battery. That way, you always have a spare battery with you during long runs.

In general, you should pay attention to the run-time before buying a headlamp – regardless of whether it has a fixed lithium-ion battery or a battery compartment. Very bright LED headlamps consume a lot of power and have a comparatively short battery run-time. At 500-600 lumens, you can expect about 4-5 hours of illumination at maximum brightness, depending on the size of the battery. If you turn down the light intensity, the lamp will also stay bright longer. Smaller headlamps with 100 lumens have a battery life of around 10 hours at maximum brightness. If you turn it down to 20 lumens, it will even light up your running route for about 40 hours.

Tip: Many jogging headlamps have the LED lamp attached to the front of the headband and the battery or battery compartment is at the back. Almost all of our jogging headlamps are designed this way. This arrangement provides optimal weight distribution. High-luminosity headlamps need a strong lithium-ion battery or several standard batteries, which results in more weight. With these LED lamps, a comfortable distribution of the weight is particularly important. There are even some models that have an outside power source. This means you can store the battery separately, for example, in your jacket pocket.

Prices incl. VAT plus shipping costs
Which headlamp is the best for jogging?
For jogging, you should choose a lightweight headlamp with a brightness of at least 100 lumens. If you tend to run in darker conditions, you can opt for more lumens. However, the brighter your headlamp, the more likely it is that you will blind oncoming runners, cyclists or motorists. So be sure to point the beam of your headlamp slightly towards the ground when someone is approaching you. Special models even have an integrated glare shield that gives you the best view and doesn't blind the other people on the road.

Most headlamps have different light levels so you can adjust the brightness. With some models, you can set the light levels directly on the lamp, with others, you can set the light levels remotely via an app or by remote control. For maximum safety, you should choose a jogging headlamp with a rear light, so that the other people on the road can see you.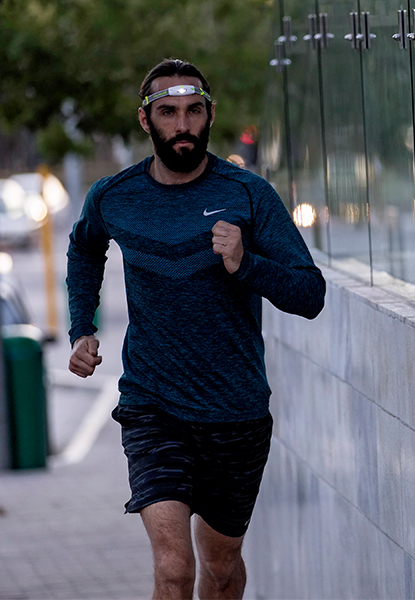 In summary: How do I find the right jogging headlamp?
To find the right headlamp for you and your jogging style, you should consider the following points:
Wearing comfort: the most important point is wearing comfort. The headlamp can have great range of illumination or a long battery life, but if it doesn't fit you and if it slips or fits too tightly when jogging, then it's not the right lamp for you.


Running route: where do you go running when it's dark outside? Do you run in the city on lighted, paved paths or do you like to run in the woods? Your jogging headlamp will need more or less lumens depending on where you run. If you always run on different paths, you can also choose a headlamp with different light levels. This way, you can always adjust the brightness of your running headlamp to your surroundings.


Red light: if you do a lot of running in the dark, a headlamp with a night vision mode can be useful.


Weight: especially for headlamps with high luminosity, consider whether you want to carry the weight of the battery on your head. Although the power source for these heavy headlamps is usually attached to the back of the headband, this can still be quite annoying. There are also models that have a separate battery. However, the cable can easily get tangled.
Rear light: if your running route takes you through areas where there are many other joggers or other people using the road, a jogging headlamp with a rear light can be an advantage. This way, people can see you coming and can also see you from behind at all times, so you can avoid accidents.


Water protection: how waterproof you want your new running headlamp to be? If you're more of a leisurely person who doesn't go outside in the rain much anyway, splash protection is enough. For runners who like to run in the wind and in all kinds of weather, the headlamp should be completely waterproof. Important: your jogging headlamp should always be protected at least from splashing water! Even if you usually don't go outside when it rains, the humidity is quite high in winter. Even fog can ruin your lamp if you don't have splash water protection.


Battery life: the higher the light intensity of your headlamp, the shorter the battery life. Therefore, when buying your new jogging headlamp, pay attention to the battery run-time. Your should choose a headlamp according to your running habits.


Extras: some models come with cool extras. For example, some models let you control the light intensity via app or by remote control or the lamp saves your last settings. These extras are practical, but they also cost more.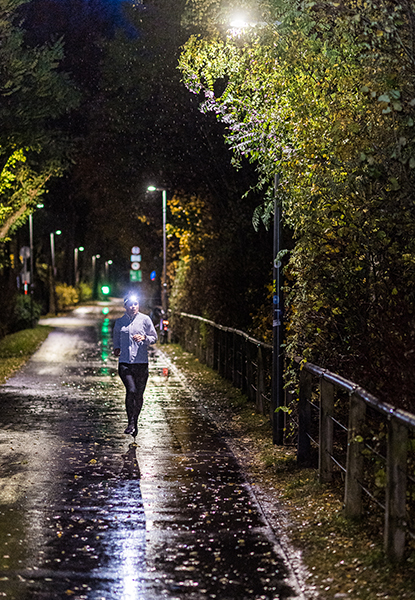 Browse our store and find the right headlamp for you and for your training in winter!
More questions about the best headlamps for jogging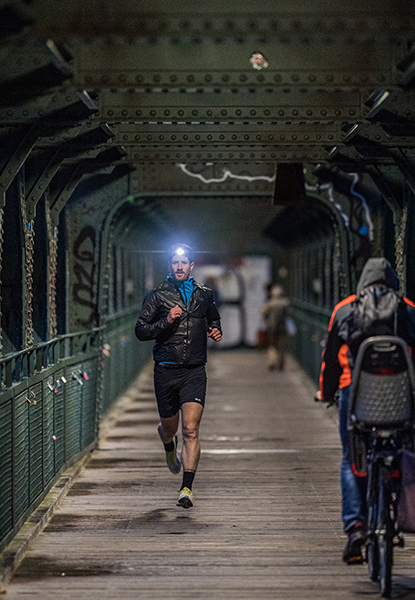 Which headlamp do I need for jogging in the city?
When you go for a city run in the evening, streetlights usually provide enough light – at least for you. However, when jogging in the city, a headlamp especially ensures that people can see you better. This way you can avoid accidents with the other people on the road. You also get better illumination on paths, in places where the light of the street lamps is not bright enough. As a rule, a lightweight headlamp with 100 lumens and a rear light is sufficient for jogging.
Which headlamp do I need for jogging along country roads?
If your running route is on dimly lit or unlit paths, where the ground is solid, you'll need a brighter headlamp. In this case, up to 300 lumens should be enough when running with a headlamp. Of course, a rear light is important here too. If you're running on bike paths or in unlit parks, you may encounter other other people at any time.
Which headlamp do I need for running in the forest?
Always be careful when jogging in the forest – especially in the dark. Roots, stones and fallen branches can turn the uneven path in front of you into a major tripping hazard. That's why it's important that your LED headlamp is very bright and also has an adequate illumination range when you're jogging in the forest. This way, you can easily see the path directly in front of you, and you can also see 50-100 meters ahead of you. So, your headlamp should have a strength of at least 200 lumens. This means that, even in the dark, running through the forest is no problem, because you can see what is in front of you.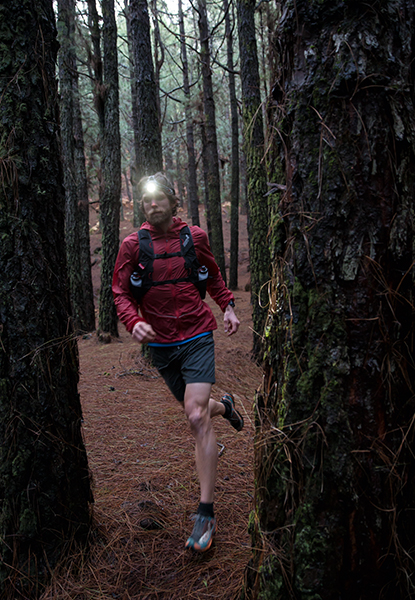 Which headlamp do I need for trail running?
When trail running cross-country, your headlamp must meet special requirements. Because you're moving on uneven, unpaved terrain. You often don't decide which path you're going to take next until the last moment. To ensure that nothing gets in the way of your jogging adventure even in winter, you need a very bright and robust running headlamp. The illumination range should be at least 100 meters, so you can clearly see everything in front of you. A 500-lumen running lamp can give you enough light, but you may need even more luminosity. In this case, you can't rely on a lightweight jogging headlamp. The high luminosity requires a lot of battery power, which naturally adds to the weight.