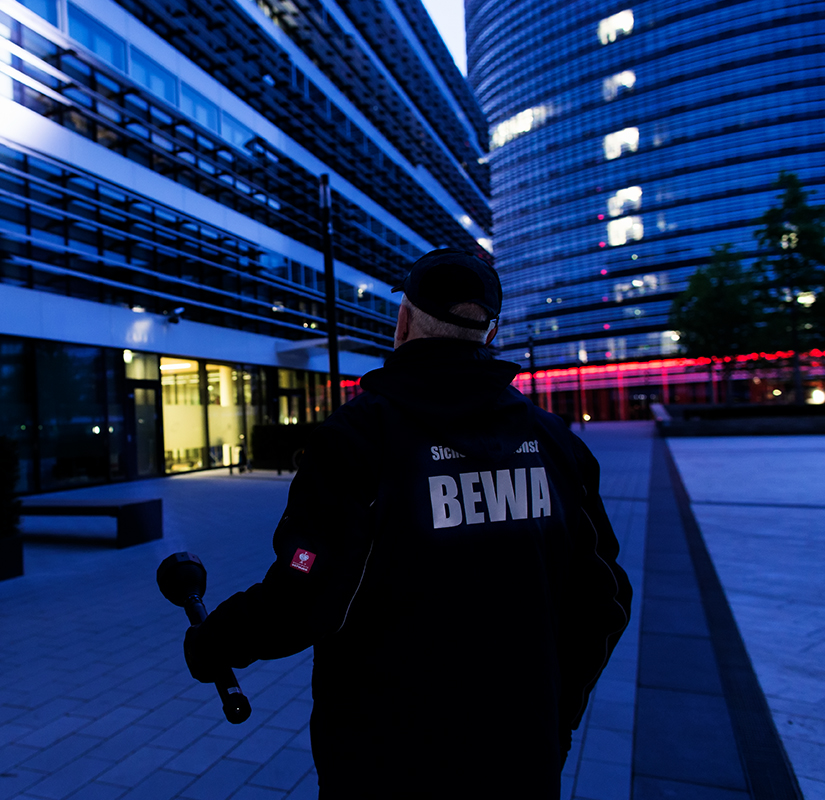 What are the features of good tactical flashlight?
A tactical or police flashlight, which is also popular with security services, must perform a variety of roles. In addition to high luminosity, with a brightness of 600 lumens or more, a tactical LED police flashlight must have a durable battery. This ensures that the LED flashlight will last for many hours when inspecting every corner of a dark building or searching for lost people in the forest.

It's also mandatory that this flashlight is waterproof for outdoor use. Flashlights for police work also have other special features that make them ideal for almost any application.

Their robust housing and weight of between 200 and 300 grams allow them to be used to break glass, and they can also be used for self-defense in dangerous police operations. Incidentally, police flashlights, such as those from Ledlenser, are available from around 100 euros.

Tactical flashlights for police work
When in the field, police officers must always have a cool head, make quick decisions and keep a watchful eye on their surroundings. Difficult lighting conditions sometimes complicate police operations. There are also situations in which officers have to gather evidence at a crime scene or defend themselves against attackers. A robust baton flashlight is therefore a must for the police. The best flashlights for police and emergency forces are robust and made of a corrosion-resistant and durable material, such as shockproof and shatterproof aluminum. A police baton flashlight can be easily switched on and off even with gloves, is dimmable and has different lighting modes.
There is a mode

for a high luminous range
to illuminate the surroundings and
a strobe light mode.

A police tactical flashlight shouldn't be too big, too light or too heavy. It must fit perfectly in the hand and be easy to carry around on a belt with a clip. An ideal size is the
Ledlenser P7R
, which is 16.6 cm long and weights 210 grams.
Especially important: the flashlight must provide enough lumens for police officers to illuminate their surroundings in the dark. The best models are also equipped with a power-saving LED so the flashlight battery rarely needs to be recharged or supplied with new batteries.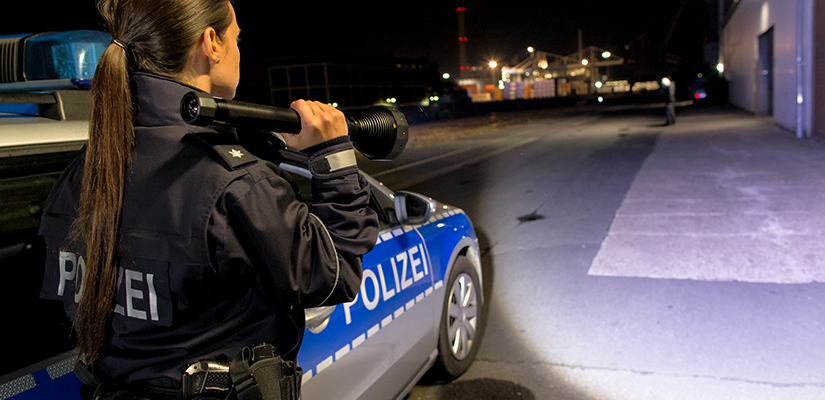 What are the features of good police flashlight?
Find out at a glance the features you should look for when buying a police flashlight.
Brightness and luminous range: when the police activity involves searching a dark building or cordoning off a street at night, a police flashlight should have a reliable light source, such as an LED, and be able to provide multiple brightness levels. High brightness is also crucial. The flashlight must produce a luminous flux of around 600 lumens to illuminate a crime scene within a radius of several meters.
Robustness and resistance: the housing on a police flashlight must be shock and impact resistant, so it can be used to break glass or for self-defense.
Size, weight and handling: not too big and heavy, and also not too short and lightweight is the rule of thumb for the ideal police flashlight. 200 to 300 grams is ideal, so the flashlight can be easily carried in a holster on a belt without getting in the way. Handling is also important. The flashlight must fit well in the hand and have a non-slip surface. The switches and adjustable focus wheels must be easy to operate, even when police officers are wearing gloves in winter or when searching for evidence.
Battery life and type: an LED flashlight for police use must have a long burn time and be powered either by rechargeable or conventional batteries. A police flashlight should provide light for many hours without the need to constantly recharge or change batteries.
Waterproof and dustproof: a police flashlight must be protected against water and dust for outdoor use. This protection ensures that the flashlight will work, even in the rain. A model with an IP68 certification is recommended.
Useful additional functions: to blind attackers for self-defense, tactical flashlights often have additional functions, such as an SOS or strobe mode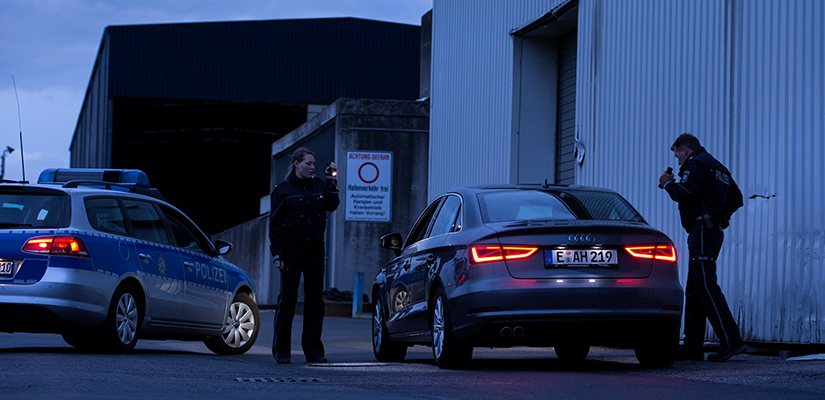 Police flashlights – little extras that make a big difference
Smart features to enhance the performance of a police LED flashlight. Officers can use the strobe feature in dangerous situations, which can even help de-escalate situations in the field. In addition to a bright light, some police LED flashlights have an SOS signal mode.

Police tactical flashlights also have other functions that offer advantages during police operations:

Belt clip on the housing: the flashlight can be carried on a clip or in a holster, so it's always within reach.
Eyelet for a wrist strap: allows efficient use for self-defense and keeps the flashlight from being dropped and damaged, minimizes the risk of loss.
SOS mode: can be used to send a call for help in dangerous situations.
Strobe mode: this function can be used to irritate and/or repel attackers.
The best police flashlights
Areas of application for police tactical flashlights
Different situations, in rain and snow or dangerous areas of operation require a police flashlight which is optimally designed for these situations.

Two important questions you should ask yourself when buying a police flashlight: for which forces is the police flashlight intended and what functions must it have to meet all requirements?

The following services require the use of police flashlights:

Security Police: these officers are often seen in public. As the guardians of public safety, their duties include the prevention of danger and the recording of criminal complaints. To do this, they need an all-round LED flashlight with high luminosity and a long-lasting battery.
Traffic police: these officers record accidents, monitor traffic and check drivers, vehicles and their loads. A police flashlight for use in traffic must be compact, but still be very bright. Among other things, it must provide enough lumens to illuminate an accident scene.
Criminal police: these officers investigate crimes and have to do a lot of paperwork and interrogating of suspects. This type of police work requires a flashlight for investigating crime scenes and collecting evidence. The ideal LED flashlight for this work is compact, yet bright.
Riot police: these officers are often deployed outside, at demonstrations and during disasters or searches. They need a functional flashlight which is designed for outdoor use and has functions such as an SOS mode.
How much do police flashlights cost?
A high-quality police flashlight has a high luminosity of 1,000 lumens or more, a robust housing, is highly reliable, and has smart features and a long burn time. Due to their high quality and excellent workmanship, strobe flashlights for police and other emergency forces, are somewhat more expensive to manufacture. This is also reflected in their price, which is higher than the price of conventional flashlights. Despite their higher price, you don't have to spend a fortune if you want to buy a police flashlight. In our store, you'll find the ideal battery-powered LED tactical flashlight for around 100 to just under 300 euros.
Prices incl. VAT plus shipping costs
Prices incl. VAT plus shipping costs
Prices incl. VAT plus shipping costs
No longer available
€385.00

€429.00

(10.26% saved)
Conclusion: what is the best police flashlight?
The best police flashlight offers a variety of functions and features. Regardless of where it is used, a police flashlight must provide light for many hours in the field and have a high luminosity. Depending on the model, these LED lamps shine for several hundred meters, which makes them ideal for the coast guard. It is also important that a LED tactical flashlight for police work has a robust housing, so it can be used to break glass. It is also crucial that the switches are easy to operate and that the flashlight is not too heavy or too lightweight. Additional functions such as a strobe or SOS mode also support and protect officers in the field.

While there are no official police flashlights, there are a number of Ledlenser models that can fully stand up to the rigors of police use. Use the numerous search filters in our store to find the right tactical flashlight.