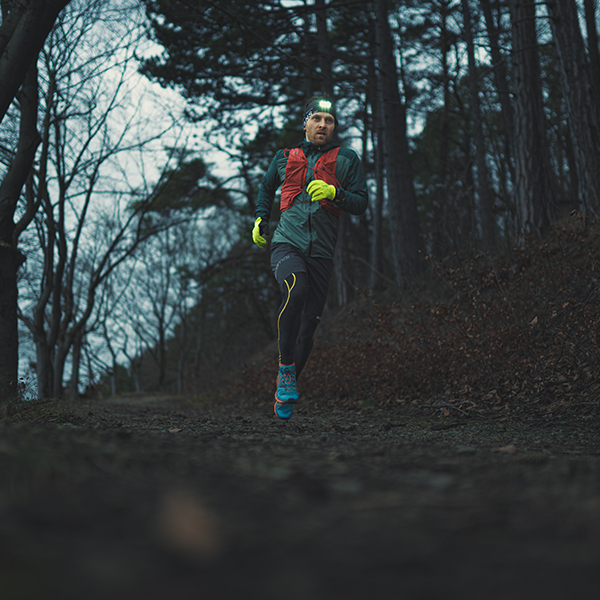 Just like running in the city, trail running is a growing trend. And while in cities seemingly anyone who can put on a pair of athletic shoes is running, extreme runners with good fitness and coordination find peace on remote and challenging trails.

Although the term "trail" includes paved paths and sometimes roads, trail runners in off-road running seek out remote routes on narrow, barely paved paths through the mountains, on slopes in the forest or along riverbeds. Finally, there is an incomparable sense of freedom on a mountain trail when the expanse of the view rewards the climb.

What trail running equipment will benefit beginners? What's behind hill running and fastpacking? And how do inexperienced trail runners connect with the scene and get used to challenging courses?

Trail running: off-road running for nature lovers
Trail running is more challenging and sometimes more rewarding than running in a city park.

Conquering a hill or mountain has an intense reward and training effect. The stress on the ligaments and muscles is different because of the angles, and the joints also have to endure more when running downhill than on a straight course. The popularity of cross-country running is great, almost every weekend you can find events and competitions in the running calendar ranging from simple country running to mountain running and challenging crazytrail. Beginners benefit from the experience of the community and find trails for trail running online.

National competitions are considered popular venues, and races such as the UTMB, which leads to the lofty heights of "Mont Blanc," bring together experienced runners who have qualified for this happening. Getting to the last glaciers of Mont Blanc in the French Alps is no easy feat. But high goals give wings, as is well known.

Cross-country running first steps well planned
A certain amount of risk runs with trail running: In deep nature, no one makes sure that roots, sticks and stones are removed and paths are maintained. These are an element for the character of the sport and require not only skills but also perceptiveness.

Even non-athletic newcomers can take off in the clean air of nature. Inexperienced runners start slowly, with little incline, and work their way up to challenging trails. As with jogging, the initial goal is to increase fitness. Intense sections of hill running, or uphill trail running, provide effective training during a running session.

To do this, running is interspersed with regular walking - if you're too out of breath, you shift down a gear until your heart rate is back in the good training range. The optimal running heart rate is individual: a doctor will help determine it and should be consulted before training.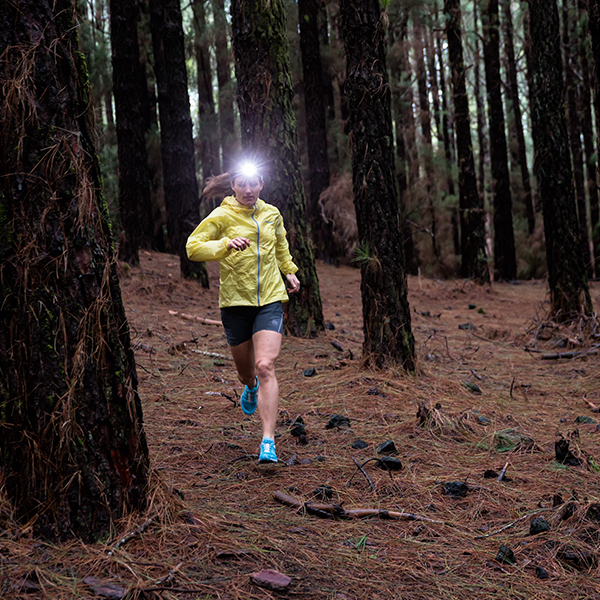 Equipment for trail running
Good footwear is the basis for trail running. Profiles of simple running shoes are suitable at most for the dry forest highway or a firmer gravel path. Good trail running shoes have a durable sole and good tread that provides enough grip even downhill on inclines and damp surfaces.

And even with the best footwear, wet roots and rocks are slippery - even experienced and professional ultra trail runners sometimes fall victim to accidents.

For orientation and safety, modern runners use digital maps and GPS gadgets. Smartwatches and other devices today deliver good results in tracking body data, optimize training and are safety factors.

Trail running at night
Differences between trail running and jogging at night? You probably won't get hit by a car on the trail, but visibility in the woods and mountains is worse, making powerful headlamps an important companion in trail running gear.
Trail running through summer, fall and winter
If the demand and the amount of equipment grows, fastpacking, a mixture of ultralight backpacking and trail running offers enough storage space for additional clothing, a hydration bladder with water, rain protection or some running food.

Trail running in the winter forest beckons and with good running clothes and functional underwear the cold temperatures are defied. With the light, small backpack, a layer can also be taken off and transported or packed as a reserve.

If the trail is full of leaves or snow, every step must sit. That's why you rely on familiar routes when running in fall and winter. When the surface becomes wet and slippery, double caution is required. On extremely icy trails, spikes are recommended. In the cold months, run more often in the dark. As with jogging in winter and running in the city at night, light makes cross-country running possible in the first place.

Headlamp for trail running and running at night
Not every running lamp that is suitable for jogging also cuts a good figure when trail running. When running off-road at night, visibility is poor in the gathering fog during twilight or in dense overgrowth. With a headlamp that is well suited for lighting conditions in the city under streetlights, you can't see the forest for the trees in the dark on the trail.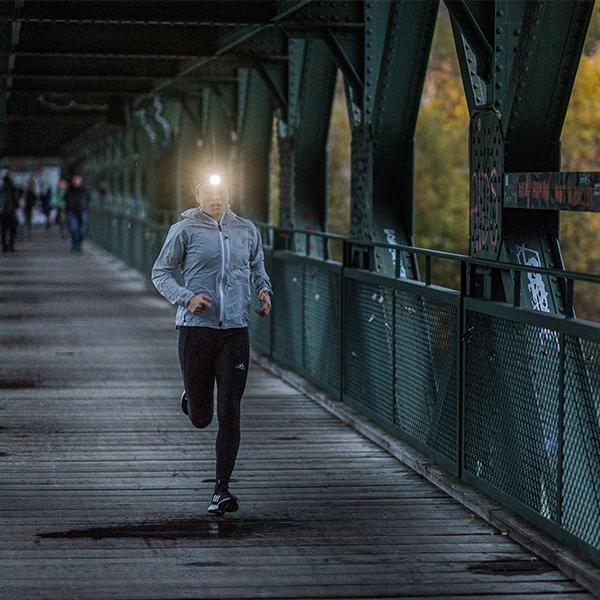 The headlamp for running in medium visibility conditions should have up to 600 lumens at 150 meters. Good outdoor lamps with up to 600 lumens or 1,000 lumens at 200 meters support visibility even in foggy conditions and increase safety on challenging courses.

Specifically designed for trail running is our NEO9R. The powerhouse of our NEO series convinces with a strong luminosity and a long battery life. It produces up to 600 lumens - even 1,200 lumens in boost mode. Its red rear light ensures that you are also well perceived from behind.

Nature-conscious trail runners use rechargeable running lights from the Outdoor series, which are simply recharged after 20 to 120 hours of light.
Safety and trail running etiquette
Your own safety and the safety of everyone else in the outdoors comes first. How quickly you can slip or trip on a root is something every trail runner will experience sooner or later. Vigilance and open eyes can also defuse dangerous situations when visibility is good. Light is the prerequisite for this.
Do not shine the bright cone of light on others, take back the packaging of gels and bars and take care of yourself, the community is welcoming friendly - extravagant hobbies connect.

Beginners start cautiously, but must not shy away from showing up at events. This helps to classify performance, motivates and establishes contacts. There are always small groups of people who run at about the same speed, talk shop about trail running equipment, and even meet outside of the trail running schedule.

Those who really run alone should inform others of the location and time before training sessions, program GPS emergency call functions on a smartwatch, and insist that acquaintances contact you when you've scheduled the end of the new super-extreme route - then you'll have fun with the intense and somewhat crazy hobby of trail running for a long time.