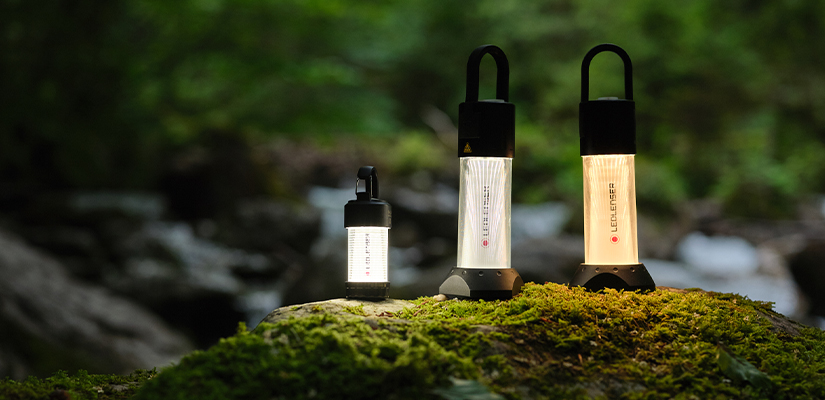 Discover lamps for your camping adventures
For those who want to enjoy a pristine and pure camping experience, lie down to sleep by a crackling campfire or set up your tent under the starry sky. Wherever you spend the night, whether close to nature or in a comfortable caravan in a campsite, an energy-saving LED camping lamp makes every outdoor activity much more comfortable. As a general rule, the best camping lamp should fully meet your individual requirements. Accordingly, the selection is wide, because each type of camping light has its own special advantages and features. Flashlights are bright and robust, and also last for many hours in the dark. So do LED headlamps, which are also perfect for jogging and cycling.
Camping lamps: practical lighting for outdoor adventures
The ideal camping lamp works on disposable or rechargeable batteries and has multiple dimming levels. The lamp should definitely also be waterproof and have a high luminosity.

A brief overview will help you make the best choice when selecting an outdoor camping flashlight, headlamp or LED lantern that meets your requirements:
Flashlights are as much a part of camping as tent pegs, gas stoves and camping mats. They're easy to store, and because of their economical LED, they have a long burn time, which guarantees many hours of light. As a general-purpose camping lamp, high-luminosity flashlights show you the way on hikes, make it easier to find the campsite's sanitary facilities at night and are also a perfect lamp for your tent. In short: a flashlight should be a part of everyone's camping equipment.


Headlamps offer unbeatable flexibility. With their adjustable headband, headlamps sit firmly, yet comfortably on your head. They illuminate the area in front of you and let you keep your hands free. They're ideal when lighting the camping stove in low light, searching for batteries in your luggage or reading a book in your tent before going to sleep. Besides camping, headlamps also provide light for a variety of outdoor sports. Depending on the model, headlamps can be powered by rechargeable or replaceable batteries.


A LED lantern is ideal for evenings at the campsite table. It works best as a hanging lamp and illuminates every corner of your camper. It also provides atmospheric lighting for large gatherings with friends. It's also practical. These camping lamps usually have a long-lasting battery that, for example, can be charged via USB-C port. Lanterns are also dimmable and their brightness can be adjusted as needed.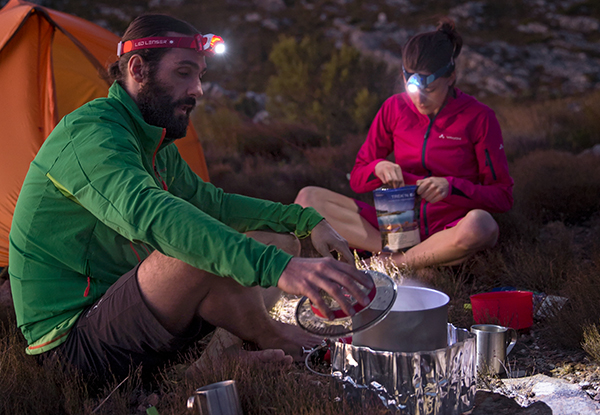 Prices incl. VAT plus shipping costs
Prices incl. VAT plus shipping costs
Which camping lamp is the best?
As mentioned, there is a camping lamp made for every purpose. While a tent lamp should be dimmable and offer a long burn time, you need a flashlight with high luminosity when camping in the wild. Therefore, before buying a new camping flashlight or headlamp, it's important to carefully consider what criteria your desired model must meet.
Checklist for outdoor adventurers: how to find the best camping lamp
Light intensity: how bright your lamp needs to be depends, among other things, on whether you're traveling alone or with the entire family. A lamp with 100 lumens is enough to illuminate an area for two people. On the other hand, for a group of 6 to 8 campers, the lamp should have 500 lumens.


Light duration: the answer to how long a camping lamp with a rechargeable battery should shine is: "As long as possible!" For short weekend trips, a burn time of 20 hours is completely sufficient, if you use it every day for 3 to 4 hours.


Weight and size: how large and heavy a camping lamp should be depends primarily on whether you're traveling in a camper or with a bicycle and a tent. If you have enough storage space, the 210-gram weight of an LED camping lamp with rechargeable battery, such as the Ledlenser P7R, is hardly noticeable. But if you're only carrying a backpack, you can save weight with a headlamp, such as the Ledlenser NEO5R, which weighs only 104 grams.


Where you plan to use it: if you're only going to use your lamp in your tent, it should definitely be bright, be dimmable and be able to be hung on a hook. On the other hand, a camping lamp with a replaceable or rechargeable battery for outdoor use should be waterproof and dustproof.


Type of power supply: basically, Ledlenser LED camping lamps provide long-lasting illumination, but you will need to change or recharge the batteries at some point. And with our handy powerbanks, you can also fully charge your lamp on the go.
Robustness: the best camping lamp does its job for many years. Regardless of whether the camping lamp has a replaceable or a rechargeable battery, it should be resistant to shocks and falls from a height of at least one meter.


Material:: camping lamps with replaceable or rechargeable batteries are usually made of high-strength aluminum alloy or shockproof and shatterproof plastic. For example, our bestseller, the aluminum P7R, is especially robust. The hard-anodized surface of this model is not only scratch-resistant and drop-proof, it also has an IP68 water and dust-proof rating.


Additional functions: make sure your camping lamp has features like an SOS mode light signal, which you can use to call attention to yourself in an emergency. Other practical and convenient features are a USB port for charging the battery or a dimming function to adjust the brightness.


Environmental compatibility: if you love camping and nature, make sure that the camping lamp and batteries are made of recyclable, pollutant-free materials – ideally under manufacturing conditions that don't negatively impact people and nature.
Prices incl. VAT plus shipping costs
Prices incl. VAT plus shipping costs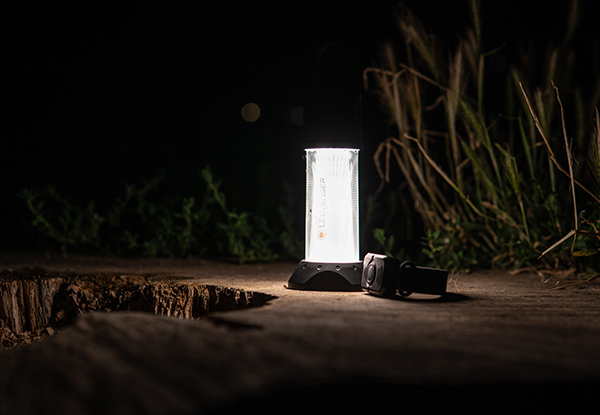 How many lumens should a camping lamp have?
Camping lighting lights up the darkness in many situations. The following is important: the best camping lantern for your needs doesn't necessarily have to have the highest brightness. You can choose between a model for outdoor trips that has as many lumens as possible and is very bright, or you can opt for a very compact camping lamp that has only enough brightness to illuminate your tent.

The following is summary of how many lumens a camping lamp should have, depending on how you plan to use it:

As a reading light, a model that has 150 to 300 lumens is sufficient.
In a group of 4 to 6 people, a lamp with 300 to 500 lumens provides cozy outdoor camping lighting.
If you want to explore the forest at night, you'll need a camping flashlight to brightly illuminate your surroundings. Models with a power of at least 600, or even 700, lumens are just right in this case.
How many lumens are ideal depending on the number of people?


| | |
| --- | --- |
| Luminosity | Number of persons |
| 40 lumens | Sufficient for camping alone. |
| 100 lumens | Ideal for up to 2 people. |
| 200 lumens | Sufficiently bright to provide light a space for up to 4 people, as well as for reading in your sleeping bag. |
| 500 lumens | Sufficient brightness to illuminate the nearby area for a party of 6 to 8 campers. |
| 600 lumens | Bright enough to almost completely illuminate your entire surroundings. |
Why is red light also useful when camping?
Red light causes less light scattering than normal light, which is best when you're searching for equipment, clothing or other items in your tent at night. For example, a flashlight or headlamp with a red light relieves the strain on your eyes and is an ideal alternative to the warm, white light of a camping lantern.

A camping lamp with red light is available in various designs. The compact Ledlenser ML4 camping lantern is equipped with a red light mode, and more. Like all lamps with red light, the small lantern supports the natural night vision ability of the human eye. If you switch on a normal light in the dark, your eyes need some time to adjust to the brightness. If you turn the light off again, your eyes need a few minutes to get used to the darkness again. This doesn't happen with red light.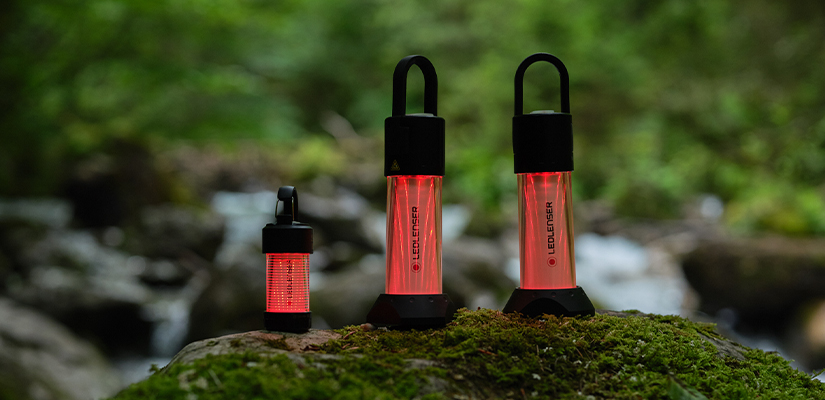 Rechargeable vs. replaceable battery camping lamps – advantages and disadvantages
Even the most long-lasting camping lamp eventually runs out of power. This applies to camping lamps with rechargeable batteries and camping lamps with replaceable batteries. If the LED camping lamp is rechargeable, you can recharge it with a charger or a power bank. But no matter which type of mobile power storage you choose, the luminosity and brightness of a camping lamp remains the same – regardless of whether the camping lamp is powered by replaceable or rechargeable batteries.
Battery advantages at a glance:

Environmentally friendly: if it's important to you that your camping light can be operated with sustainable power storage, rechargeable batteries are the ideal solution. Unlike disposable batteries, rechargeable batteries can be recharged many times, significantly reducing the amount and expense of recycling waste.


Cost-effective: despite the higher purchase price, purchasing a rechargeable camping lamp pays off in the long run. After all, high-quality disposable batteries aren't cheap, and they must be replaced with new ones as soon as they run out.


Reliability: modern, rechargeable batteries are designed to deliver power evenly. With careful maintenance and gentle charging, lithium-ion batteries can withstand several thousand charging cycles.


Flexibility: unlike a camping lamp with a disposable battery, you are much more independent with rechargeable battery lamp. Rechargeable camping lamps with USB port can be charged with either a charger or power bank. On the other hand, you have to buy new replaceable batteries when they're empty.
Disadvantages of rechargeable camping lamps compared to replaceable battery-powered lamps:

Recharging time: if the power charge on a camping light that uses replaceable batteries runs out, you can quickly replace the batteries with new ones. But you have to charge a rechargeable battery. Unless there's a power outlet or other charging option nearby, you'll be sitting in the dark while camping.


Capacity: while lithium-ion batteries are rechargeable, they usually have a lower capacity than replaceable batteries, which may result in a shorter burn time or a weaker light from your lamp.


Longevity: batteries age and lose performance and capacity over time. Fresh replaceable batteries of the same size, on the other hand, always deliver the specified power.


Weight: camping lamps with rechargeable batteries are sometimes a little heavier than lamps which are powered by replaceable batteries.
Tip: if you don't have the option to charge your batteries at a power outlet while camping, it's worth buying a powerbank or a battery box which is protected from splashing water and shocks. Depending on the model, Ledlenser powerbanks offer space for 2 lithium-ion batteries and have one or more USB ports that you can use to charge your LED camping light and your smartphone via USB cable.
Prices incl. VAT plus shipping costs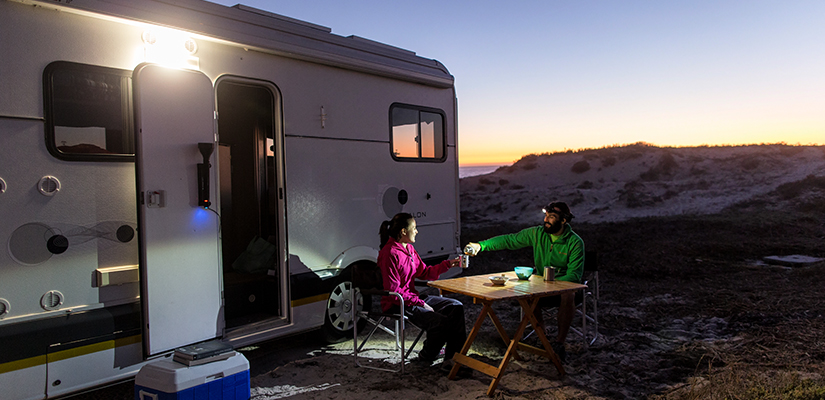 Conclusion: which camping lamp should I buy?
The best camping lamp won't let you down while camping and will provide light for a long time. At Ledlenser, you can find an LED camping lamp, such as our bestsellers, the P7R camping flashlight P7R and the ML4 camping lantern – also available with a warm light. They're ideal for every campsite because of their long burn time and high luminosity. Furthermore, in our range, you'll find a lightweight headlamp for camping, which despite its small size, offers enough lumens to illuminate your entire field of vision.

Here is a summary of the ways you can use replaceable or rechargeable battery-powered Ledlenser camping lamps:
At the campsite: a Ledlenser LED camping offers multiple advantages. It is durable, robust and, depending on the model, has rechargeable batteries. As an LED tent lamp, we recommend one of our lanterns, which can also be used as a power bank, among other things.


In the Camper: if your camper doesn't have a power source or gas to power your camping lights, you should always have a flashlight, lantern or headlamp in your pack. A Ledlenser headlamp makes it easier to find utensils, clothing and accessories. A Ledlenser lantern with rechargeable battery, which is dimmable and easily chargeable via USB, is ideal as a hanging lamp when you're camping in your caravan.


A flashlight for every situation: whether compact, such as the Ledlenser K6R for your keychain, or robust and extremely bright, such as our MT14, which is ideal as a flashlight for hiking – LED flashlights are simply part of camping. Just like our flexible headlamps, which keep your hands free in any situation and illuminate everything in your direct field of vision. The models from Ledlenser are powered either by rechargeable batteries or by replaceable batteries and are ideal for camping, hiking and outdoor sports.
Camping lamps at a glance
Prices incl. VAT plus shipping costs
Prices incl. VAT plus shipping costs
Prices incl. VAT plus shipping costs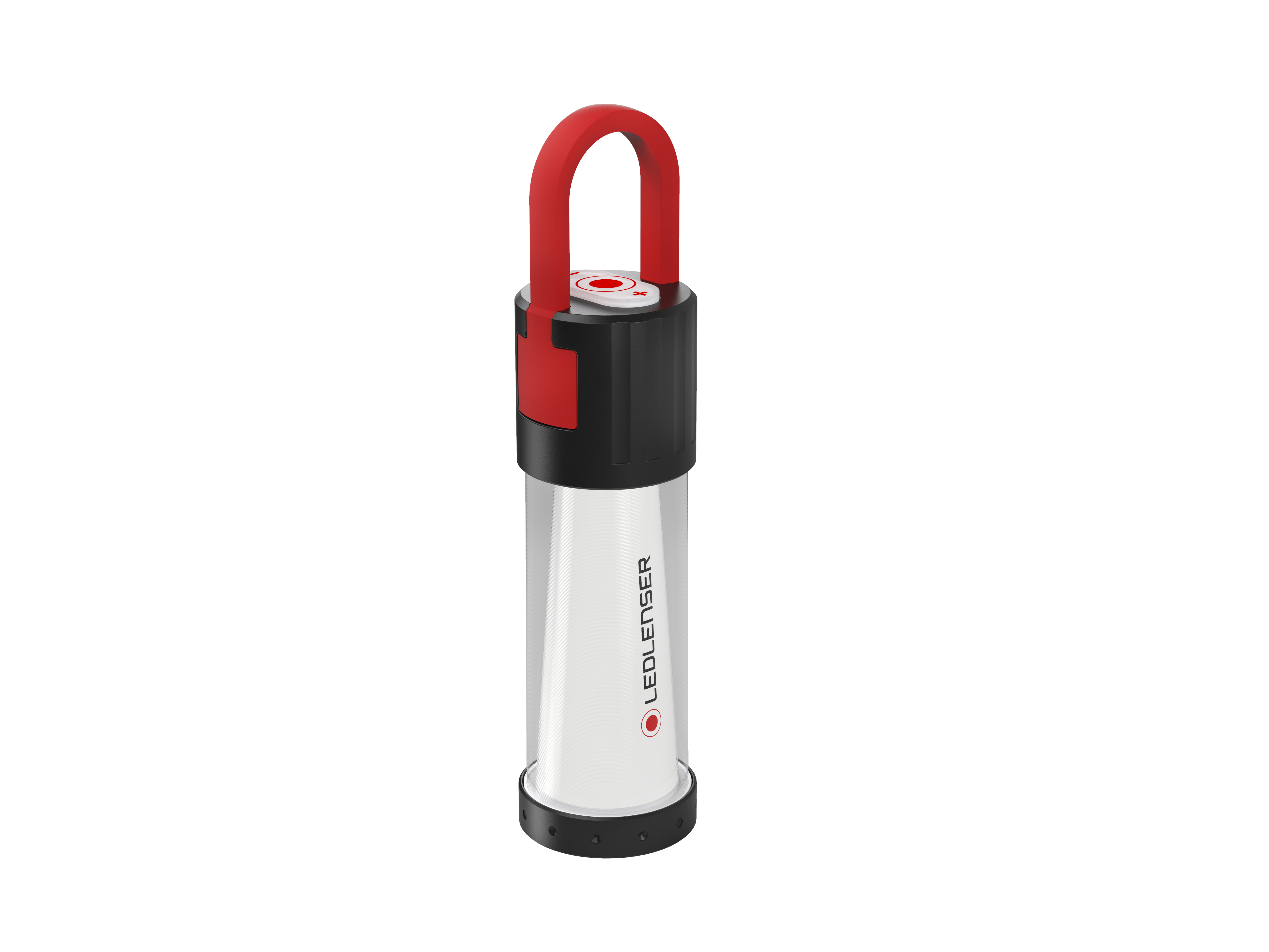 Prices incl. VAT plus shipping costs
Prices incl. VAT plus shipping costs
Prices incl. VAT plus shipping costs
Prices incl. VAT plus shipping costs
Prices incl. VAT plus shipping costs
Prices incl. VAT plus shipping costs
Prices incl. VAT plus shipping costs