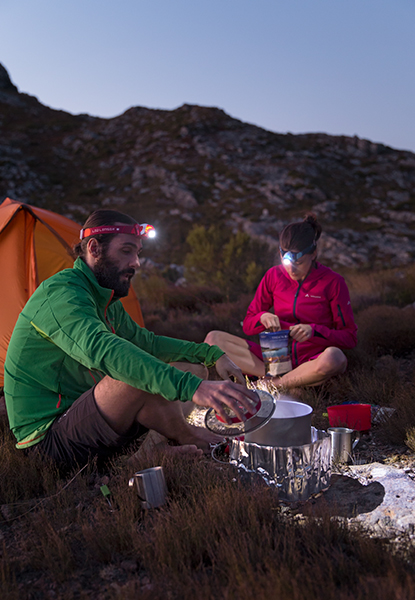 What should you look for when choosing your travel flashlight?
To find the perfect flashlight for your trip, you should think about how you'll use it. Here are some criteria that will help you select a flashlight:


Compact and lightweight design: choose the smallest and lightest flashlight possible, because when you're on the road, every unnecessary ounce takes up space and makes your suitcase heavier. A compact design allows for convenient storage and easier handling during your travel adventures.


Brightness and range: when choosing your flashlight, make sure that it's bright enough and that its beam shines far enough. The higher the lumen number (lm), the brighter the flashlight. How bright your flashlight needs to be depends on what you plan on doing. In general, you'll be well-equipped with a flashlight that has at least 200 lumens. However, a model with more power may be necessary for special requirements.


Battery life and energy efficiency: so you don't suddenly find yourself in the dark, you should take a close look at your flashlight's battery life and check whether it meets your needs. Good energy efficiency is critical to extending battery life.
Disposable or rechargeable battery: at Ledlenser you'll find rechargeable flashlights with a built-in rechargeable battery and models you can use with conventional batteries. Which version is best for you also depends on how you want to use it. Do you have a way to charge your flashlight on the go? Or do you prefer to take spare batteries with you?


Robustness and resistance: things can get a bit rough when traveling and doing outdoor activities. That's why it's important for your flashlight to be rugged and resistant to shock, water and other environmental conditions. Look for specific features like waterproof or shockproof properties to make sure the flashlight is up to the challenges of your travels. The IPX rating tells you how water and dust resistant your flashlight is.


Additional features: depending on where you're traveling, other additional features can enhance your travel experience. These include, for example, a dimming function, strobe mode or an SOS function.
If you consider these criteria when making your selection, you'll easily find the ideal travel flashlight for your vacation.
Flashlight or headlamp: what kind of lamp do you need on your trip?
In addition to classic flashlights, there are a number of other lamps that can also prove to be practical and helpful on your trip. Which model is the right one for you also depends on what you intend to do with it. The most common types of travel lamps include:
The classic flashlight
LED flashlights are popular because of their high brightness, energy efficiency and durability. They offer a good balance between size, weight and performance, and are available in a variety of styles and sizes. LED flashlights are ideal for general purpose use, outdoor activities and daily travel.
Headlamps
Headlamps are practical because you can keep your hands free and can still illuminate the area in front of you. They're especially useful for outdoor activities such as hiking, camping, jogging and for repairs in low-light conditions.
Keychain flashlights
No bigger than a car key, these tiny flashlights are lightweight and compact enough to put on your keychain. Despite their small size, some of our keychain flashlights provide up to 400 lumens of light and are just as bright as some of our larger models. They're ideal for city trips, using your keys or searching inside a bag in the dark.
Prices incl. VAT plus shipping costs
Available
€6.90

€8.90

(22.47% saved)
Prices incl. VAT plus shipping costs
Available
€13.90

€17.90

(22.35% saved)
Prices incl. VAT plus shipping costs
Available
€19.90

€26.90

(26.02% saved)
Outdoor lanterns
Outdoor lanterns provide 360-degree illumination and are great for lighting up an entire tent or campsite. They have rugged designs, waterproof properties and longer battery life. Our lanterns also have a powerbank function, so you can charge your phone or other battery-powered items on the go. Outdoor lanterns are perfect for camping, outdoor picnics and cozy evenings in your tent.
Diving lamps
If you want to discover underwater worlds on your vacation, you need a flashlight which is not only waterproof, but is designed for diving, such as our D14.2, with which you can dive to a depth of 60 meters. It easily withstands the water pressure.
Powerbanks
Although not a flashlight, our powerbanks with replaceable batteries are very useful when traveling. They make sure you don't run out of energy when you're on the go. Its rugged, waterproof housing protects the batteries inside from outside influences.
Prices incl. VAT plus shipping costs
Prices incl. VAT plus shipping costs
Prices incl. VAT plus shipping costs
Which lamp is right for your trip depends on your individual needs, activities and preferences. To be optimally prepared, you can also pack several lamps for different situations.
Which flashlight do you need for which kind of travel?
A travel flashlight is a versatile tool that is very useful in various travel situations. These situations include, for example:


Camping and outdoor activities: for your camping trip, you need a rugged, waterproof flashlight with enough luminous range to illuminate the campsite or the path ahead of you in the dark. A flashlight with different light modes allows you to adjust the brightness according to your needs. It's also important to consider your flashlight's battery life, so your flashlights don't let you down during longer outdoor adventures.


City trips and sightseeing: a compact, lightweight flashlight that easily fits in your handbag or backpack is ideal for a city trip. A wide illuminated area helps you to read maps and to explore dark paths and corners in cities and places of interest. In an emergency, the SOS mode can be an advantage.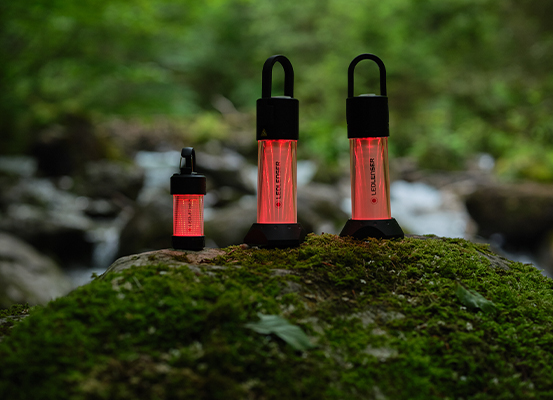 Power outage and emergency preparedness: in some parts of the world, the power supply is not reliable. To be prepared for a possible power outage or other emergencies, a flashlight with a long battery life is recommended. Make sure your flashlight is always easily accessible and ready to use, so you can find it quickly.


Safety aspects and self-defense: a good flashlight can also be helpful in risky situations. Bright light, a glare function or the strobe mode can irritate attackers. Our K6R Safety keychain flashlight is also equipped with a shrill alarm signal to deter attackers and to draw attention to yourself if you're in an emergency.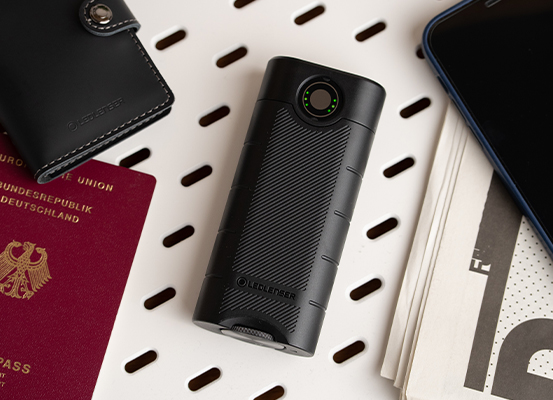 Can you take your flashlight on the plane?
Usually, taking a flashlight with you on the plane is not a problem. However, this depends on the policies of each airline. You should take a close look at these policies before your trip. Basically:


Flashlights and headlamps should go in your hand luggage. Since these lamps are classified as heat generating devices, they may not be transported in checked baggage. There is a risk that they may accidentally turn on and set other luggage on fire because of the heat they generate.
If possible, batteries must be removed and stored separately next to the flashlight. Make sure that the batteries are protected from damage and short-circuits, for example by putting them in their original packaging, using a suitable bag for them or covering the contacts with tape.
You are only allowed to take a limited amount of lithium batteries on the plane. In total, they must not exceed 100 watt-hours of power. This includes not only your flashlight battery, but also the batteries in your cell phone, laptop, camera and powerbank.
Very large flashlights can be a problem at security checkpoints, because they can theoretically be used as weapons. The decision whether your flashlight poses a risk is made by the security officer at the checkpoint. If in doubt, you may not be allowed to take the flashlight with you.
Please note that the regulations for carrying flashlights on the plane may vary depending on the airline and country. Therefore, find out the exact guidelines before your trip.
Tips for using a travel flashlight
Your travel flashlight can be very useful when traveling. For optimal use and a long shelf life, you should follow these handling tips:

Battery care
Before your trip, make sure that batteries are fully charged. If you're not going use the lamp for a longer period of time, remove the batteries. This is how you prevent the batteries from leaking. For longer operating times and reliable performance, use high-quality disposable or rechargeable batteries.

Transport and storage instructions
Store your flashlight in a protective case or pouch. This way, you avoid scratches and damages. Your flashlight should be kept in an accessible place in your luggage, so you can find it quickly when you need it.

More tips
Test your flashlight before you leave to make sure it works properly. You can extend the battery life by always using the right light mode for the situation. When you don't need the light, turn it off to save the batteries.

A well-maintained and properly used flashlight will provide you with safety and comfort on your trip. It is a handy tool, but it also has a limited battery life. Therefore, remember to bring spare batteries or a charger with you if necessary.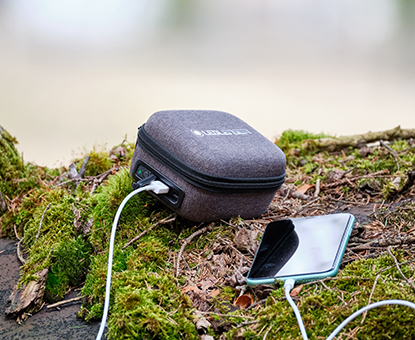 Conclusion: Which travel flashlight should I buy?
A reliable travel flashlight has the following features:


Compact and lightweight
Sufficient brightness and luminous range
Long battery life
Adequate resistance to water and shocks


Depending on what you need it for or where you plan to travel, it may also make sense to take a headlamp or an LED lantern with you. Ultimately, which flashlight is best for you depends on what you plan to do on your vacation and where you plan to travel. At Ledlenser, you'll find many different models that take up little space and still perform very well. If you're planning to travel by air, check your airline's hand luggage regulations before your trip. In general, however, it's no problem to take a flashlight with you on the plane.