Prices incl. VAT plus shipping costs
Prices incl. VAT plus shipping costs
Prices incl. VAT plus shipping costs
Why is a flashlight important for hunting?
A flashlight is an indispensable tool in hunting to identify and overcome hazards and obstacles in the field.

The benefits of a hunting flashlight include the following:


For orientation: a hunter's flashlight is needed for wayfinding in the dark and can also be used for map reading thanks to its eye-saving red light.


Disturbance-free game observation: a flashlight for hunters and foresters makes it possible to observe and identify game without disturbing or scaring it with the light of the lamp.


Weapon handling: Cleaning, adjusting and reloading the weapon are also indispensable during the hunt. For this purpose, for example, a headlamp with sufficient luminosity is a helpful tool.


After the shot, the flashlight helps the hunter track the prey in the undergrowth and follow sweat trails.


The bottom line is that a hunting lamp in use ensures to track the game without startling it, to increase safety when overcoming obstacles to illuminate the way when climbing to a high seat.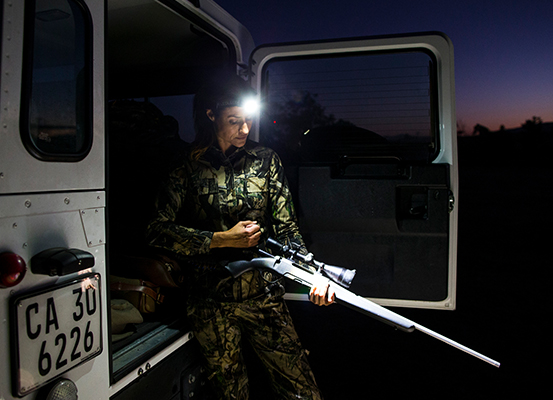 What features should have a good flashlight for hunting?
The most important requirements that a good flashlight for hunting should meet at a glance:


Brightness: A hunting flashlight should have a luminosity of at least 200 to 300 lumens. For a high luminous range over 100 or more meters, a flashlight for hunters may also perform more. Important: More than 500 lumens are not recommended, so that other hunters are not blinded during the hunt. It should also have a dimming function that allows the brightness in lumens to be adjusted individually for flashlights.


Range: The range of a flashlight for hunting depends on the luminosity and the cone of light produced. A good LED hunting flashlight should have a range of at least 100 meters.


Light duration: Whether the hunting flashlight is powered by batteries or a rechargeable battery, it is crucial that you have a long light duration important to not leave the hunter in the dark. Therefore, attention should be paid to the maximum burn time that can be achieved with one charge. According to experience, a hunting lamp should provide light for the whole night, or the entire hunt.
Tip: If you still run out of power on the road, it is worth investing in a power bank or battery box. The portable energy cases from Ledlenser are waterproof and offer space for rechargeable batteries and/or batteries. Depending on the model, they have a USB-C port for your rechargeable LED hunting light.

Light cone: The light cone of a flashlight determines the width of the illuminated area. A good hunting flashlight should have an adjustable focus to switch between spot and wide flood illumination.


Color temperature: A colder light is recommended for hunting, as it penetrates much better through morning fog or haze. You can read more about flashlights and color temperatures in our guide.


Robustness: A good hunting flashlight should be robust and resistant. In addition to being shock and impact resistant, it should also be waterproof and dustproof so that it can function reliably even under adverse conditions.


Weight: A lightweight flashlight is advantageous for hunting, as it does not weigh down the hunter and is easy to carry and handle. Therefore, heavy models over 300 grams are rather not recommended.


Operation: the best flashlight for hunting is characterized by an intuitive and effortless condition. With or without gloves, you should be able to switch between settings quickly and without looking.
Headlamp or flashlight when hunting: Which is better suited?
Particularly handy and light or powerful and robust? As is so often the case, your individual requirements determine the choice of a hunting flashlight. If you hunt on sight and want to illuminate game at a greater distance, go for a flashlight with a long range. Thanks to a sharply focused light cone with high luminous range, you can clearly see the prey even from a distant high seat.

If you need free hands to load or unload your weapon, search for accessories, or get your location on the map/smartphone, a hunting headlamp does the job. The great strength of a headlamp is that it is lightweight and can be aimed at your field of view with a movement of your head.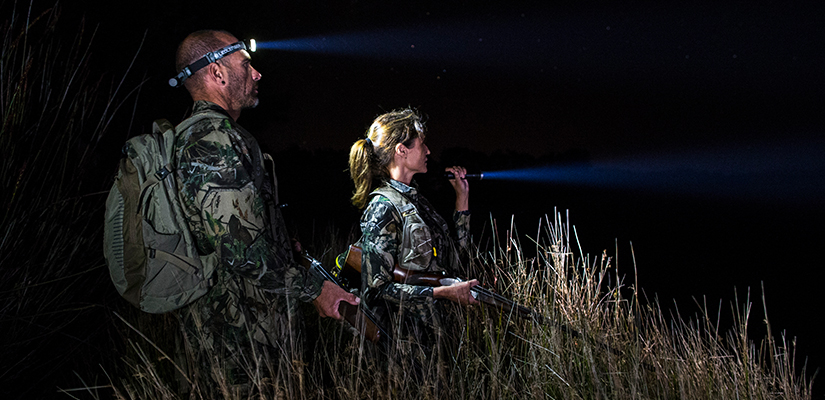 We have summarized the advantages of a flashlight and a headlamp for you in the following table:


Advantages of flashlights
Disadvantages of flashlights

Flashlights are compact, lightweight and easy to carry.
They offer a greater range of light and brightness than headlamps.
Moreover, they can be effortlessly operated with just one hand. The surroundings can be quickly illuminated with a sweep of your arm.

To operate a hunting flashlight, you always need a free hand, which can limit your freedom of movement.
In addition, it must be constantly held in the hand, which is tiring in the long run and can be perceived as uncomfortable.
Advantages of headlamps
Disadvantages of headlamps

Headlamps leave both hands free for the hunter, which is especially beneficial when handling weapons.
They are also more comfortable to wear and can be easily attached to the head.

Brightness and range of headlamps are more limited compared to flashlights.
The beam of some headlamps is not adjustable, which can limit flexibility in use.
In addition, to illuminate the surroundings, the head must be turned in the direction.
Flashlights are suitable in situations where long range and brightness are important, e.g. when observing game at long distances or when stalking in rough terrain.

Headlamps are suitable for situations where good close-range visibility is important, e.g. when preparing hunting equipment or when ascending or descending from a high seat.

Tip: Headlamps are real all-rounders and are also suitable for a range of outdoor sports such as trail running, hiking or biking. In our store you will find the right lamps for hiking and other activities.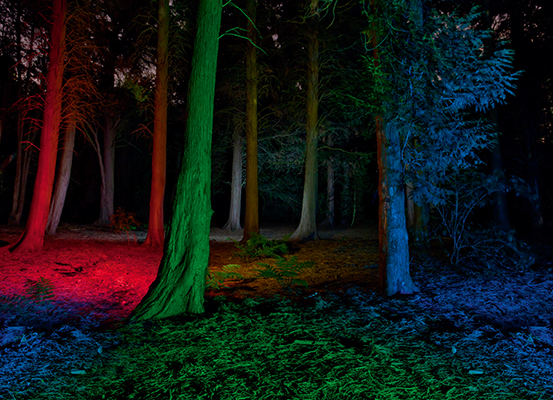 Which light is right for hunting?
Green light is a popular choice at night for hunting or wildlife viewing because the colors are not as distorted for humans as red light and everything appears more natural. In addition, green light has a reputation for being perceived worse by deer and wild boar than bright white light. Models that emit blue light are also popular with hunters and foresters because they make contrasts stand out more clearly, making sweat marks somewhat easier to find.

Hunters are optimally prepared for the next stalk with a flashlight or headlamp with red light. These are the advantages of a flashlight for hunting that emits red light:


The hunter's natural ability to see is supported, which means that after switching on the red light, the eye does not have to get used to the darkness again, which is the case with other light colors.
The red light of a hunting lamp is perceived by the red deer rather as a grayish tone and disturbs the animal somewhat less.
Which light does wild boar not see?
Green light is perceived worse by deer and wild boar than bright white light. From the perspective of the wild animals, green light is likely to be perceived as a slight glimmer. However, it blends in with the ambient light and thus has a slightly lower scaring effect.

In short, a flashlight with red light or green light is an indispensable tool for hunting. On the one hand, a hunting flashlight with red light scores with a lower scaring effect and, on the other hand, is easy on the hunter's eyes, which is also an invaluable advantage in the dark.

At Ledlenser, you will find both flashlights with multicolor LEDs that produce multiple colors of light, as well as practical color filters that can be attached to many of our flashlights and headlamps.
Prices incl. VAT plus shipping costs
Conclusion: Which flashlight is the right one for hunting?
The best flashlight for hunting is bright, durable and has a robust, shock-resistant housing, which should also be waterproof. At least as important: a luminosity of 200 to 300 lumens and a long range. As always, the choice of a flashlight for hunting depends on individual requirements and the intended use.

For example, a headlamp for hunting is very well suited for


search for accessories in red light,
to check the weapon,
to determine one's own location on the map,
climb a raised hide without danger.


If you need a lamp with the lowest possible scaring effect and have to get close to the game for the best shot, you need a functional and good flashlight that emits


emits red light or green light
is durable thanks to LED and has a high luminosity,
has a flood mode for the illumination of large areas, as well as produces a punctual beam of light over many meters.