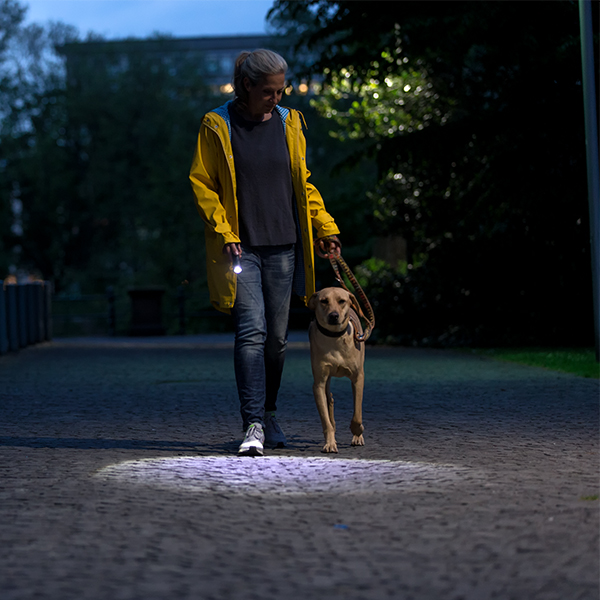 A flashlight for the walk is indispensable
As a dog owner, you can't choose the weather or the time of day when your dog urgently needs to do his business. Especially when the days get shorter and darkness lasts longer, a headlamp or flashlight for walking is the perfect side kick - and of course, a good flashlight for dog walking is also useful for other outdoor activities or in case of a power outage.

The most important aspect of carrying a flashlight for walking is the protection of your four-legged friend. Even if a leash and a light collar with LED provide safety on roads, a flashlight with a high brightness and long range do not replace them. In addition, the controls on a flashlight are more convenient for dog owners to use than the often very small and difficult to reach switches on a collar with LED lighting.

At a glance: Why a flashlight is ideal for dog walking
As lighting on forest paths in the evening and generally in the dark season


For a better view of your own dog when he runs free and moves further away from you in the dark


To better identify sources of danger on the trail. These include broken glass, barbed wire, discarded food and poison bait. You can also recognize obstacles from a great distance, which minimizes the risk of injury for you as the owner and your dog.


You can see other dog owners and walkers from a distance. This helps to avoid confrontations between dogs, because you have time to put your four-legged friend on the leash.


Tip: Of course, a flashlight or headlamp is not only suitable for walking the dog. You can also use handy models that are powered by rechargeable batteries or batteries for jogging, hiking or other outdoor activities.

Which lamps are suitable for walking the dog?
Enduring, compact enough to fit in a jacket pocket or offering a brightness of 500 lumens or more: The range of flashlights and headlamps for dog owners is huge. Ultimately, the right choice depends heavily on the dog's personal needs and behavior, or how he reacts to the light of a lamp. In most cases, a combination of a luminous collar and a separate headlamp or flashlight has proven itself.
Advantages and disadvantages of flashlights for walking
Flashlights are available in mini format, which fit in all hands and almost any pocket, to particularly luminous models that shine for several hundred meters, can be recharged thanks to battery and have a lighting duration of many hours. For dog owners who are still looking for the best flashlight for walking, the following benefits:


A flashlight with a light intensity of 300 - 500 lumens produces enough brightness to illuminate a forest path at night for many meters. Thanks to a focusable light beam and a long range, you can always keep an eye on your free-roaming dog.


Small models can be quickly stowed, are very light and can be held in the hand without fatigue.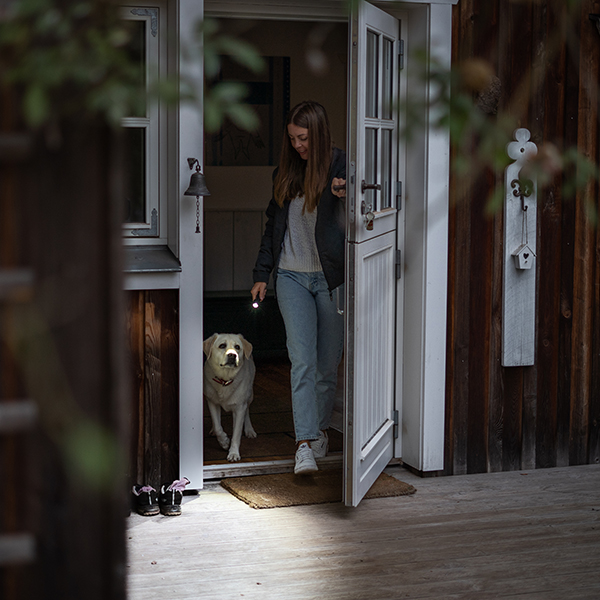 Tip: If you're looking for a compact yet powerful lamp, check out the Ledlenser K4R and K6R. They fit on your keychain, are very light and inexpensive. If you need a flashlight with a greater luminosity of 1000 or even up to 2000 lumens, take a look at the P series models. The powerful P7R Core, P7R Signature and P6R Signature battery flashlights are a good choice in this case. They can handle different light modes as well as light levels and can also be recharged.

Among the many advantages, a flashlight for walking has few disadvantages:


Flashlights must be handheld, leaving only one hand free to leash your dog. A challenge, especially if your four-legged friend tends to pull on the dog leash.
Prices incl. VAT plus shipping costs
Available
€13.90

€17.90

(22.35% saved)
Prices incl. VAT plus shipping costs
Available
€19.90

€26.90

(26.02% saved)
Prices incl. VAT plus shipping costs
Advantages and disadvantages of headlamps for dog walking
The advantages of headlamps for walking include the following:


Since they are attached to the head by means of a strap, you as a dog owner have both hands free.
The light follows the movement of the head, which allows intuitive illumination of the field of view.

Tip: Solid entry-level models are the extremely lightweight Neo1R as well as the MH3. Both are ultra-compact and are perfect for an evening walk in the park. More functions and light output are offered by the H-series models, where, among other things, the brightness can also be adjusted in different levels.

Disadvantages of headlamps:


Depending on the user, they can be perceived as uncomfortable, especially when worn for a long time.
Is a luminous collar enough in the dark?
A luminous collar is a useful accessory to have with you at all times when walking in the dark. You can easily locate the dog if it disappears from the glow of the flashlight. Moreover, a luminous collar needs to be switched on only once and does not require any further operation by the owner.

However, luminous collars also have disadvantages:


They are not accepted by all dogs and can distract the four-legged friends.
They are not a substitute for a flashlight or headlamp, as they are not bright enough to illuminate a path or the surroundings.

Tip: An alternative to a necklace are clip lights, such as the Ledlenser Cliplight (CU2R), which can be attached in seconds and produces red and white light. You can also wear a cliplight as a bracelet to be better seen in the dark. Important: Luminous collars or cliplights are not sufficient as a light source and should be supplemented by a flashlight or headlamp.

What makes a good flashlight for walking?
If you regularly have to take your dog out in the evening, you need a reliable source of light. A headlamp or flashlight for walking should therefore be durable, robust and functional. Models with LEDs as the light source function for many years without needing to be replaced. In addition to long life, an LED is energy efficient and provides clear, bright illumination. Before buying an LED headlamp or flashlight, it is recommended to take a close look at the key data of the desired model and consider the following points:
Brightness: The greater the lumen value, the higher the total luminous flux. Models with 500 lumens are enough to brightly illuminate a forest path. Basically, even for the best flashlight for walking: In the city, the flashlight may be less luminous than in the forest. Ideally suited for a walk through the city park are the models of the Ledlenser K-series, such as the K4R or K6R.


Light range: The greater the light range, the better you can spot your favorite in the distance. In the countryside with less light, we recommend a strong flashlight from the P series. Ideal if you let your dog off the leash or he tends to move further away from you when walking.

Different light levels: The more light levels your flashlight can handle, the more situations you'll be prepared for: A low level for well-lit areas, a higher level for dark forest paths.


Light duration: The light duration indicates how long the lamp can shine when fully charged. A longer burn time means less frequent charging and less frequent battery changes. Note: The brighter a lamp shines, the shorter the burn time.


Battery or rechargeable battery: You can recharge rechargeable batteries at a charging station before every walk at almost zero cost. Batteries are always an advantage when there is no way to charge rechargeable batteries.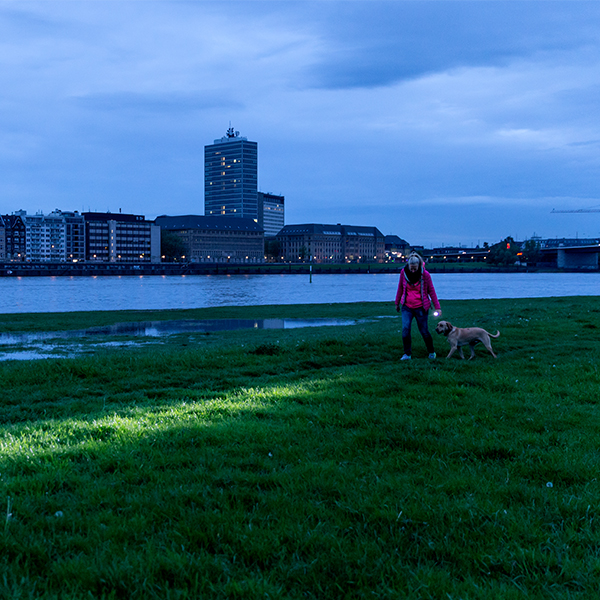 Tips: The right flashlight for you and your dog.
If you love your dog, you will also go out at night when it rains. You should always have a flashlight with you, which may not need to be the brightest depending on the terrain, such as a park.

The most important tips for the best flashlight for walking at a glance:


For walks in the dark, bright, high-intensity flashlights are particularly suitable for dog owners. Adjustable lamps with different brightness levels are ideal.


Before buying, consider how often you go for walks and how long you are on the road. Also important: Do you prefer to recharge batteries or change batteries?


Weight and size are important criteria when choosing your flashlight. It must be comfortable to carry and use and not too heavy.


Make sure that your new flashlight is waterproof, dustproof and has an impact-resistant housing. This ensures that it will work properly even in wind and weather.

Tip: A luminous collar or cliplight from Ledlenser is an excellent addition to a powerful flashlight or headlamp. Depending on the situation, the models of the P series offer enough luminosity as well as a high range at night and in poor visibility.