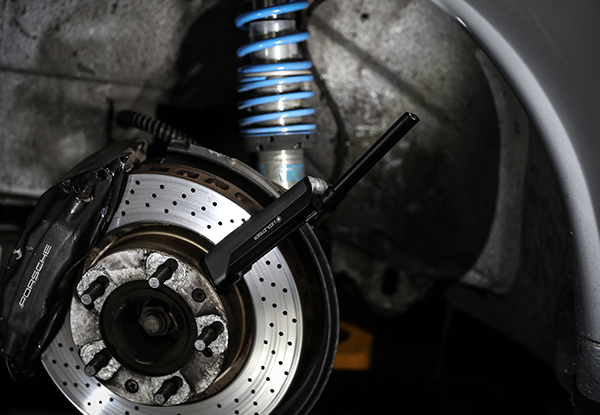 What features should you look for in LED workshop lamps?
Whether you're a professional working on a control cabinet or a hobbyist working on your classic car: maintenance, repair and replacement of defective parts is quicker and safer with high-quality accessories. An LED workshop flashlight or an LED workshop light should be at the top of your inventory list. We have summarized for you the important things to look for when equipping your workshop with an LED flashlight.


Brightness and luminous range: the best battery-powered workshop lamps can fully illuminate dark areas or shine a focused beam of light on individual components. The ideal work lamp produces a luminous flux of 250 to 300 lumens per square meter. This is enough brightness to light up the darkest corners of your workshop.


Battery life and type: the runtime of a workshop lamp or work light can never be too long. Regardless of whether it's powered by rechargeable batteries or by replaceable batteries: your workshop flashlight should last many hours – or better yet, it should last a full workday – before you need to recharge it via a USB port or put in new batteries.


Ruggedness and durability: a workshop flashlight should be able to withstand a lot of use, and be impact and shock resistant.

Size and weight: depending on its use, a work lamp must either be compact and comfortable or produce a particularly strong luminous flux. A lightweight LED headlamp is recommended if you need to have your hands free. Furthermore, a LED workshop flashlight must not be too large, heavy or bulky, so it doesn't interfere with your work. If a flashlight is not enough for the craftsman, for example, to illuminate large areas, a portable construction spotlight is recommended, but these are usually also larger and heavier.


Waterproof and dustproof: a workshop flashlight must be waterproof and dustproof to ensure that it operates in all conditions. A workshop flashlight, such as the Ledlenser P7R Work UV is certified to IP68, which makes it dustproof and prevents water from entering the housing, even when it's continuously submerged.


Additional features, such as an SOS signal, strobe or zoom mode can be useful in certain situations, but these features can also make the flashlight less intuitive to use. Work lights with extra features are also more expensive. However, it is important that your light has an attachment that allows you to hang the LED work light or wear it on your belt.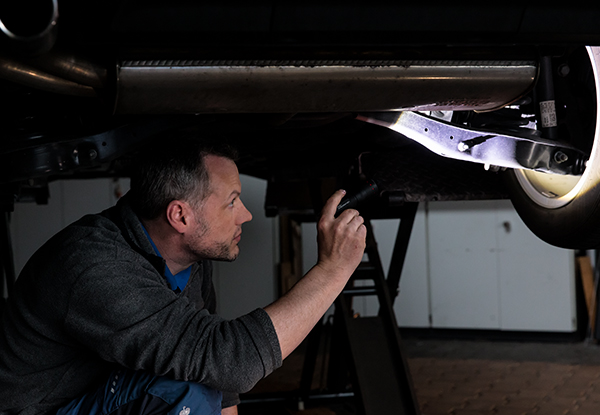 Prices incl. VAT plus shipping costs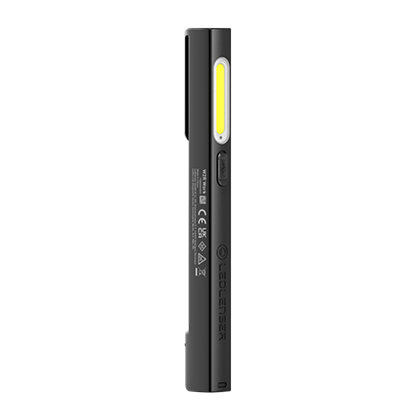 Prices incl. VAT plus shipping costs
Prices incl. VAT plus shipping costs
What types of flashlights are available for my workshop?
Below you will find a brief overview of different workshop lights, each of which offers its own advantages depending on the design. But whether it's an LED flashlight, a work light with two light sources or a hand-held lamp with USB connection, a Ledlenser LED workshop light always has the typical premium light pattern, a long runtime, innovative and useful features, and up to 7 years warranty.
The classic flashlight
A LED workshop flashlight is characterized by its ease of use. The long, round housing is made of a sturdy material, such as aluminum, and takes either replaceable batteries or rechargeable batteries. A workshop flashlight has, for example, a magnet in the base, allowing it to be placed safely on metal surfaces. Depending on the model, a flashlight produces a luminous flux of 1000 or more lumens. This is ideal if you want to completely illuminate dark areas on construction sites.
Headlamps
Not a classic workshop lamp in the true sense of the word, but a highly versatile lamp that allows you to always have enough light in front of your face. Headlamps are usually attached to the head by an elastic strap, so you can keep your hands free while repairing a bike or checking the fuse box during a power outage. Even when you're working on your car, these lightweight yet powerful headlamps offer added value because you can direct the beam of light in your line of sight to accurately see what you're working on.
Penlights
Penlights are compact and versatile. You can carry them almost anywhere, in your overalls, inside jacket pocket, on your tool belt or on a clipboard. Their slim design allows you to use the penlight even in tight spaces. You can use them, for example, in the PC under your desk, in control cabinets or in the fuse box of your car.
Work lights
These flashlights are optimally designed for use in the workshop. In addition to high brightness and wide area of illumination, LED workshop lights have a number of useful features. You can attach it to the hood of your car with a magnet when you're changing the air or oil filter, or use the hook to mount it above your workbench. A magnetic workshop lamp is always secure, and you can direct the light where you want it with the rotating and folding mechanism.
In addition to the models presented here, there are other LED work lights that will make your work easier and faster. For example, a UV flashlight is recommended for do-it-yourselfers who use fluorescent paints to detect leaks.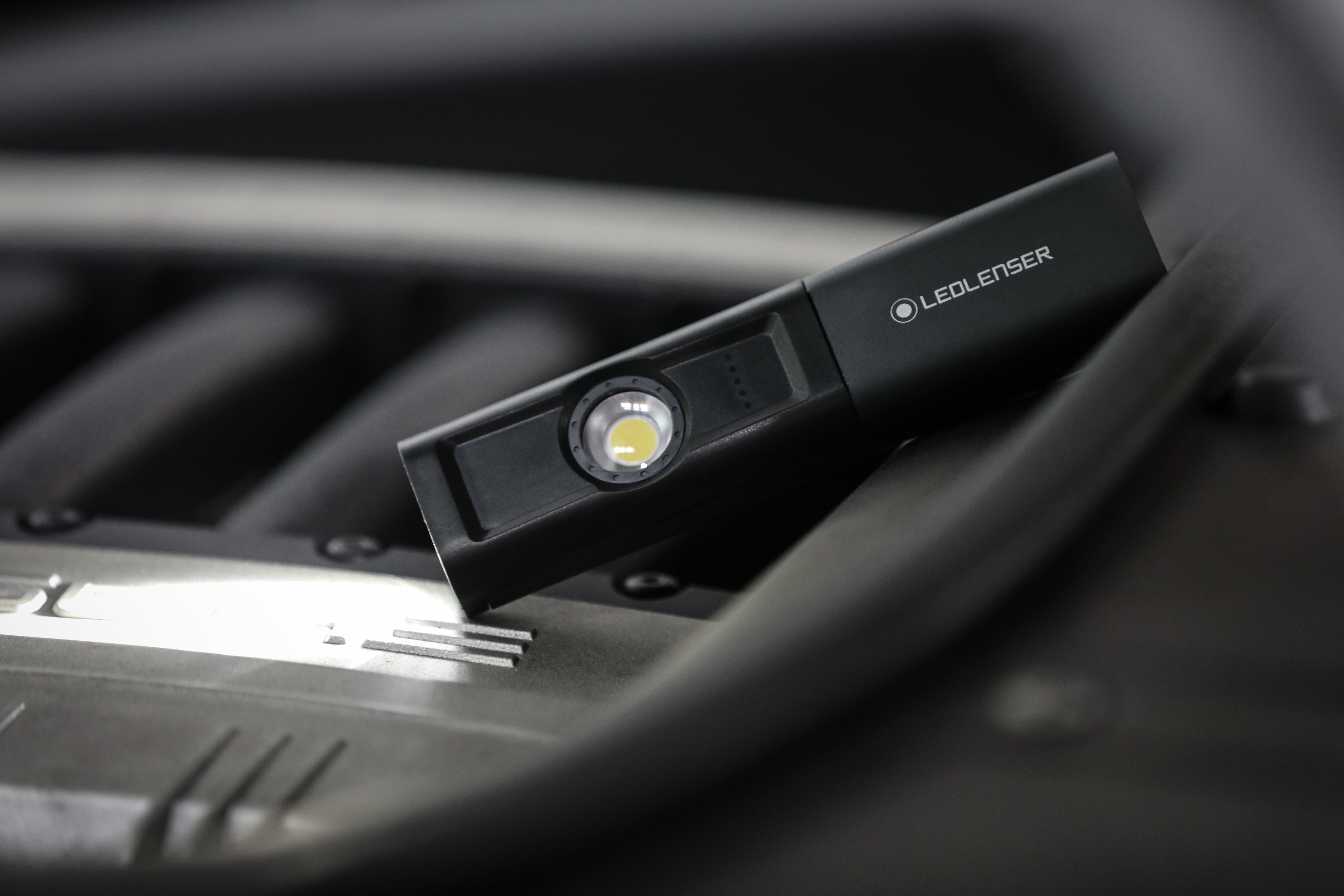 Tips for using workshop lamps
If you work with sharp, pointed or electric tools, an LED workshop light is mandatory to if you want to avoid hazards and be able to work precisely.


Safety Precautions: a high-quality, bright workshop lamp makes your job easier and significantly reduces the risk of injury. For example, using an LED workshop light when working under the car to replace the brakes ensures brightness and fatigue-free work. It's important that auto mechanics have a flashlight which is compact enough to fit into tight spaces when working under the hood, so your hand doesn't get caught on sharp objects.
Important: especially when doing maintenance and repairs under difficult lighting conditions, a LED work light has a double advantage. Thus, a battery-powered or rechargeable flashlight for craftsmen does more than just protect against injuries while working. It also helps to ensure that repair work can be done carefully and without mistakes, which greatly improves operational safety and minimizes the risk of accidents for everyone involved.

LED workshop lights for ATEX hazardous areas: safety is the top priority in potentially explosive areas. Tools, accessories and materials must be certified for use in ATEX areas. In places where even a single spark is a source of danger, such as near gas pipes, only an ATEX-certified LED workshop light may be used.


Care and maintenance: like all tools, a LED flashlight for craftsmen must be serviced and maintained regularly. It is important that the battery is fully charged, or replaced before use, if necessary. A workshop flashlight should also be regularly cleaned. This keeps the parts free of dust and prevents malfunctions.
Possible uses of workshop flashlights
The ideal flashlight for auto mechanics, hobbyists, locksmiths and other workers must be flexible, reliable and durable, as well as functional. Depending on where it's being used, an LED work light must perform several tasks at once and provide several hours of light before the batteries need to be recharged or replaced. The typical tasks that an LED workshop lamp must perform include the following:


Illuminating dark areas or cabinets to the farthest corner.


For repairing and/or inspecting of machinery, vehicles or industrial equipment. In particular, the identification and visual inspection of electronic and mechanical components, as well as screws and nuts, are some of the many tasks in which a workshop flashlight is used.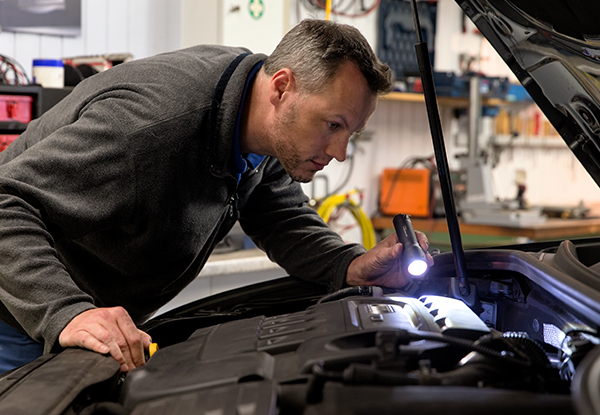 How much do workshop flashlights cost?
Whether it's a LED workshop lamp, magnetic lamp or work lamp: an LED headlamp or flashlight for the workshop has a long service life, bright light output and a very robust housing. Additional features, such as a second LED light source, UV light or a magnet at the base, increase the price of workshop flashlights as compared to conventional flashlights. On the other hand, an LED workshop light also offers a lot of added value for the money, which in not necessarily reflected in a high price. In the Ledlenser online store, you can find a professional workshop flashlight or work light in the €24.90 to €269.00 price range.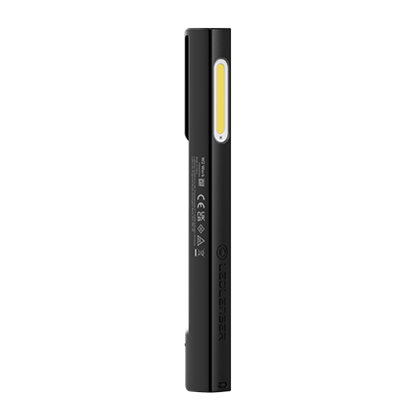 Prices incl. VAT plus shipping costs
Prices incl. VAT plus shipping costs
Prices incl. VAT plus shipping costs
Conclusion: which is the best workshop lamp for craftsmen?
The ideal LED workshop lamp has a sturdy housing, smart features and is highly reliable. The main advantage is that it makes work easier, as well as offering safety and protection from injury. Last but not least, an LED workshop light helps to ensure that production, maintenance and repair work can be performed at the highest level of quality.

The best workshop lamp also offers high performance and innovative features that help make your work easier. Ledlenser is continuously raising the bar in the area of special LED lights for use in the workshop, on construction sites and in industrial applications. You can count on the fact that every LED work light from Ledlenser has a premium light pattern. Depending on the model, our workshop lamps have two light sources for illuminating the smallest components, screws, nuts and electronics with pinpoint accuracy. You can use the second light source to uniformly illuminate larger surfaces and areas. As with any lamp for the workshop, car and job, a Ledlenser work light has LED light source and smart ways to attach it. You can easily find the best lamp for your needs in our online store. You can use the numerous search filters to narrow down the search results to the right model for you with just a few mouse clicks or taps of the finger.