Emergency flashlight for power failure - small and big light helpers
According to the Federal Network Agency, the reasons for power outages are many and varied. The following reasons are cited as causes for power outages:

Atmospheric causes
Acts of third parties
Reasons at the network operator
Feedback interference

Although the number of power outages in Germany is declining overall, there is an average of 12 minutes of power outage per household per year in Germany. Statistics can be deceptive here: After all, not all apartments and houses are affected by power outages, which is why some cases are not affected by the blackout at all while others remain dark for significantly longer.

In 2020, 860 grid operators reported a total of 162,224power outages. The Federal Office of Civil Protection and Disaster Assistance points out that, as a rule, any power failure gets repaired within three days.

The flashlight in case of power failure leading the way to the fuse box
Practical emergency flashlights that provide enough light within the house are already a good help for initial orientation. Small to medium-sized models are easily stowed in slides, cupboards or in the nightstand. The small flashlights, which are hardly larger than a ballpoint pen, also fit in a handbag.

With up to 200 lm at 90 m and 25 h luminous period, there is enough light and time to determine the source of the evil. Of course, caution applies at power boxes - you should never do more than flip the toggle switch of a fuse without a professional at your side.

A faithful, strong and above all safe companion in case of power failure is the LED flashlight P17R Core. A useful function in case of power failure is the "Emergency Light" mode. If the flashlight is in the charging station and there is a sudden power failure, the lamp turns on automatically. This saves the annoying search for a light source in the dark.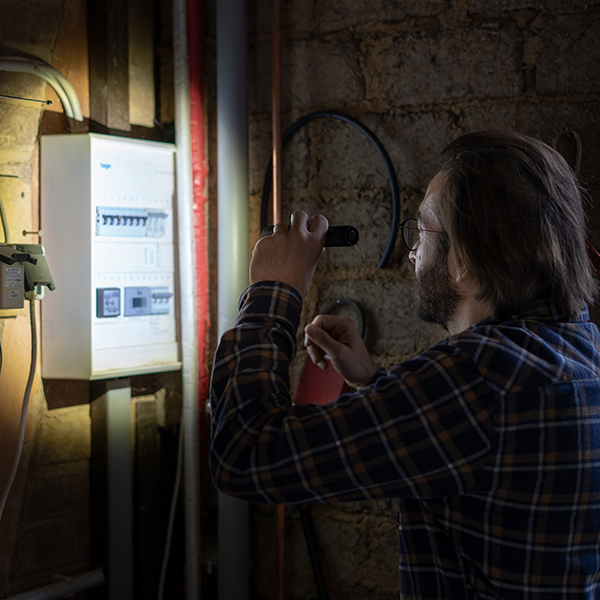 A long-lasting flashlight with about 500 lm at up to 250 m and 25 h operating time is the P5R Core flashlight, which also provides nice lighting for a walk for example. Good protective characteristics such as an IP68 rating - i.e. strong protection against dust and water – make the flashlight a faithful companion even in rainy weather. Weighing only 106 g at 123 mm in length, the P5R Core is also practical for the pocket or glove compartment and can be charged in the car via adapter.

Thanks to the charge indicator like the P-Series Core flashlights, you can be sure that there is still enough battery for the next power outage.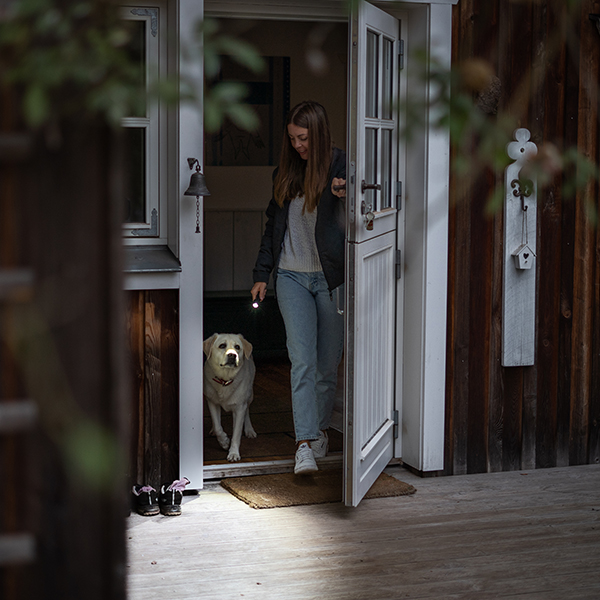 Good flashlights for indoor and outdoor
With high requirements, a flashlight simply has to be able to do more. With a luminosity of 1200 lm at 560 m, flashlights provide enough light to illuminate large halls or open spaces. With a strong model, you not only survive the power outage, but also have a reliable companion to get the necessary overview from the property to the forest.

A good all-around flashlight with a focus on distance and durability, the P7R Core is considered a solution for darkness in everyday life of night walks, night hiking or just a blackout with up to 1400 lm at about 300 meters.

LED lanterns for power failure and off-grid
Whether the energy transition will cause households to go dark more often, as some critical voices claim, is questionable. The grids and good calculations should ensure that serious and long blackouts are the exception and only occur if, for example, an important line gets damaged by outside interference.

In times when power outages were more common, people helped themselves through the time with candles and listened to the battery-powered radio. But especially with children at home, many candles that would be needed to illuminate larger living areas can become a risk.

LED lanterns are nowadays a better choice. Reliably and safely illuminate rooms, have light for reading or playing cards. This also brings joy when camping or during a cottage vacation - so in situations where you do not wait for the light to turn on again. As a power bank, the LED lanterns for power failure also fulfill bottlenecks in the charging status of the smartphone battery or other devices with USB charging. A good power bank in the emergency assortment can thereby complement them.