What is special about an emergency flashlight?
The best emergency flashlight is the one that is ready to hand and comes on even in the event of a power failure. It must be durable, robust and waterproof so that no liquid penetrates the inside of the lamp. First and foremost, however, it must be easy to store and reliable, so that it is always ready to hand in the event of a power failure and then also works.

Since it may be the only source of light for many hours, it makes sense that your new emergency flashlight has different brightness levels and a mode that allows you to illuminate a larger area. This way, you can wait with your family in the glow of the battery or rechargeable lamp for the end of the blackout and meanwhile eat, play or listen to the music from your emergency radio until the power is back.

Please note: Even if longer power outages are the exception in Europe and Germany, your battery or rechargeable battery lamp should last at least six hours in the event of a power outage, but preferably even longer.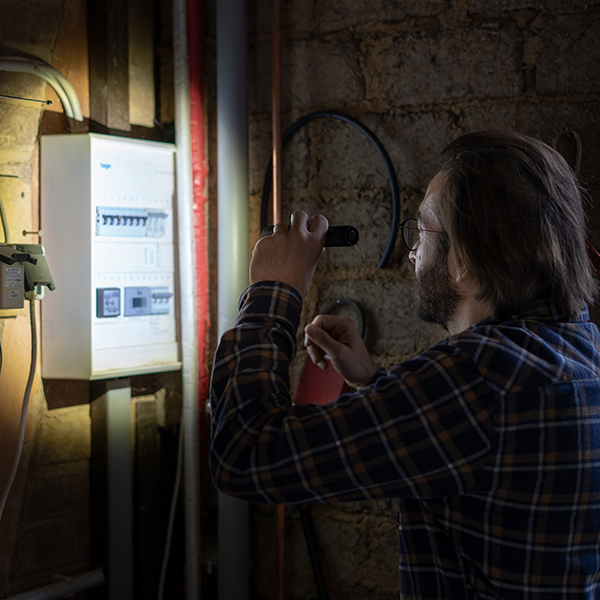 Rechargeable battery vs. batteries - or a lamp with a hand crank?
To ensure that a flashlight is always ready for use in the event of a power outage or other crisis situations and that you can power it independently of the mains, an emergency flashlight should either:


be able to be charged by charger or USB if it has a rechargeable battery
can be charged by hand crank
be designed to run on batteries

The advantage of a
rechargeable flashlight
is that you can store it fully charged in a safe and easily accessible place when you need it. The disadvantage, however, is that you cannot charge such a flashlight from a wall outlet with a charger in an emergency, but only from a
power bank
or by using a generator.
Models that hold batteries can be quickly refilled with new cells if they run out. Since batteries hold their voltage for a long period of time, they can easily be stored for a longer period of time. However, if you don't have fresh batteries handy and there's no way to buy them in case of a power outage, you're unfortunately left in the dark.
With an emergency flashlight that you charge by hand crank, you are completely self-sufficient, since you need neither batteries nor accumulators. However, an emergency lamp with a crank is usually rather weak. In addition, you must continuously charge this light source with muscle power so that the LED of the lamp can shine continuously.

Tip: Our K- and P-series flashlights are perfect for emergencies. For example, the Ledlenser K4R and K6R, whose battery lasts about 10 hours. Among other things, these models offer useful functions, such as an SOS function, with which you can draw attention to yourself in an emergency - for example, if you injure yourself on a hiking tour and need help.

Finding the right flashlight for power outages - What should I look for?
In addition to a high durability, an emergency flashlight should produce a brightness that is sufficient to illuminate even a larger area. Furthermore, important: a long battery life and a robust housing, so that it also survives a fall without damage.

Depending on the intended use, e.g. as an emergency lamp for outdoor activities or in the job as a rescue worker, it should also have a low weight. Additional functions that can save lives in an emergency are also of great importance, including the following features:


mode for sending out an SOS signal
USB charging port
different brightness levels
Ideal for the demands of crisis situations are Ledlenser flashlights and
headlamps
. Like the P5R Core, which achieves a runtime of at least 25 hours on the lowest setting. The IP68 certified and thus outdoor suitable P6R Core is equipped with a rechargeable battery and is one of our more powerful models with a luminosity of 900 lumens.
H- and HF-Series headlamps
Emergency flashlights for special circumstances: severe weather and natural disasters
You're not always lucky enough to be out in the dry in an emergency. If you're surprised by darkness on a hike, injured while biking, or in need of help during a flood or after a car accident, you know how important a persistent flashlight can be. As a crisis precaution, a flashlight can provide safety in the event of a power outage and even save lives in emergencies.
Illuminate the entire room in an emergency
For a homogeneous radiation of larger rooms, a lantern with LED is particularly suitable. In addition, lanterns have a long runtime and have useful functions. For example, you can use the Ledlenser ML6 Connect WL as a power bank to charge your smartphone or an emergency radio via USB.
Flashlights with emergency light function
A flashlight with emergency light function is incredibly practical, as it automatically turns on in the event of a blackout, as long as it is in the charging station. A flashlight that turns on in the event of a power failure does not have to be immediately at hand, but can be set up in a place of your choice. Especially when children are present, flashlights that automatically provide brightness make a big difference. This way, the kids don't have to be afraid when it suddenly gets dark.
Flashlights with emergency light function
Checklist: What to do in case of a power outage?
Is the power outage limited to your own home or not? Get an overview if the whole street is in the dark. If not, check the fuse box.


Turn off electrical appliances to prevent a power-on rush and blown fuses.


Check the fuse box and the ground fault circuit interrupter. If there is a defect, call in an electrician to repair the damage.


Pay attention to announcements made on a battery- or accumulator-powered emergency radio, which you should have purchased for crisis preparedness.
Fit in an emergency: Care and maintenance of the flashlight
To ensure that an emergency flashlight is ready for use in the event of an emergency, you should regularly check its function and maintain it accordingly. This way, you can ensure that your flashlight, as well as the battery and/or batteries, will function properly in the event of a power outage.


Check for leaks: Check the housing seals of your emergency flashlight - if any - and replace them with new seals if necessary to prevent moisture from entering, which can lead to corrosion


Note that alkaline batteries can leak after a while. Therefore, use lithium batteries of the same type if possible. Take them out of the flashlight case if you are not going to use them for a long time and keep them near the flashlight.


Check the LED of your flashlight for functionality and have it replaced if necessary.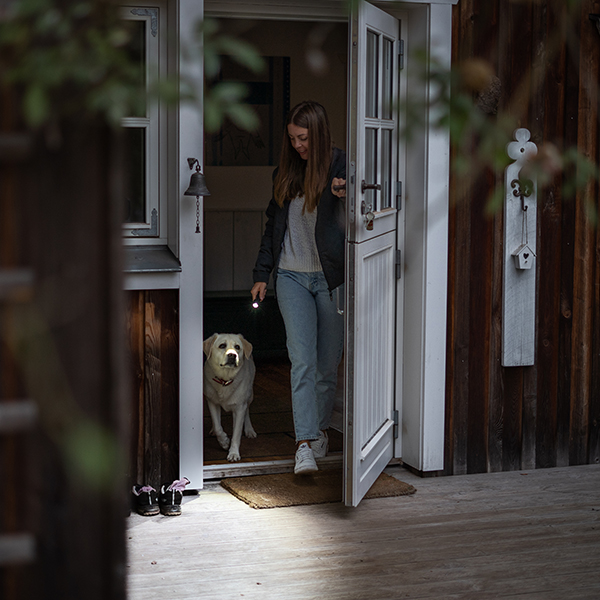 Conclusion: With the emergency flashlight safely through any power outage
So that you and your family are not left in the dark in the event of a power outage, an emergency flashlight should be an integral part of any emergency preparedness kit. In addition to flashlights, headlamps are also useful as emergency lights in the event of a power outage. They keep your hands free to check the fuse box, for example. A headlamp can also be used as a comfortable reading lamp when camping.

In our online store you will find the right lamp for every emergency - with a homogeneous light pattern, high brightness and a powerful spot light beam with a long range. All models with the matching accessories have the usual Ledlenser quality and up to 7 years warranty.