What does waterproof mean for flashlights?
Waterproof is more than just a buzzword when it comes to flashlights. When diving, boating or doing other outdoor activities, a waterproof LED flashlight is an indispensable companion. But what exactly does waterproof mean?

Strictly by definition, waterproof refers to the ability of a material or device to prevent water from entering. For electrical devices such as flashlights, this property is particularly important. Moisture can affect the sensitive technology inside and cause the lamp to malfunction. However, waterproof does not equal waterproof. This means that not every waterproof flashlight is suitable for every use. While an underwater flashlight is specifically designed for diving, a flashlight that only keeps out splashing water is often sufficient for outdoor activities.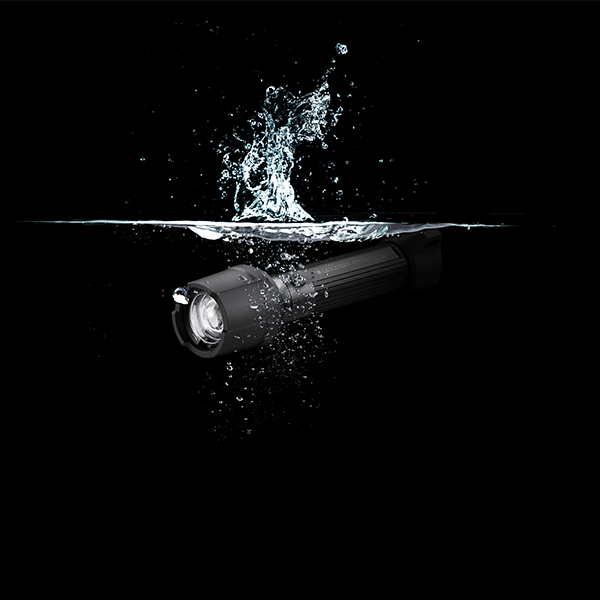 What makes a flashlight waterproof?
The water resistance of a flashlight depends on various factors, including material, workmanship and technical features. You can tell how waterproof a flashlight is by its IPX (International Protection) rating. The higher the IPX rating, the better the flashlight is protected against water penetration. While a flashlight with IPX1 "only" offers protection against dripping water, a flashlight with IPX8 is even suitable for short underwater work.

In order to achieve a high IPX value, the material and workmanship of the housing are decisive factors. Many waterproof flashlights are made of a precision-machined aluminum housing. Aluminum is not only strong, but also lightweight, making it an ideal choice for outdoor activities. High-quality seals are another important aspect to prevent water from leaking into the housing. The light source, whether LED or halogen, should also be installed in such a way that it is protected against water penetration.

The meaning of the individual IPX classes at a glance
IP protection classes have been defined so that manufacturers can indicate how well devices are protected against the ingress of water or foreign bodies. The standardized value is valid worldwide. The designations for the protection classes consist of the abbreviation IP and two subsequent digits. The first digit stands for protection against contact and foreign bodies, the second digit for water protection. If only one of the two digits is significant, the other is assigned an X. This results in the various IPX classes for waterproof flashlights, such as IPX4, IPX6, IPX7 or IPX8.

This is what the individual IPX classes for waterproof flashlight mean in detail:

IPX0 - no protection against water


IPX1 - protection against vertically falling dripping water


IPX2 - protection against falling dripping water at housing inclinations of up to 15 degrees


IPX3 - protection against falling spray water up to a direction of 60 degrees from vertical


IPX4 - protection against splashing water from all sides


IPX5 - protection against water jets from any angle (e.g. coming out of a nozzle)

IPX6 - protection against temporary (short) immersion in water


IPX7 - protection against water for a certain depth and time (depending on the manufacturer's specifications, for example, one meter and 30 minutes)


IPX8 - protection against permanent immersion (the exact conditions are specified by the manufacturer and are, for example, to a depth of two meters)


IPX9 - protection against water from high-pressure or steam jet cleaners.

How waterproof should my flashlight be?
Typically, the IPX classes of waterproof flashlights vary between IPX4 and IPX8. If a flashlight meets the IPX4 standard, it means that it offers only minimal protection against splashing water. These flashlights are unsuitable for use in the rain. An IPX5 flashlight may be used in the rain from time to time and should thus meet the minimum requirements for campers or hikers. However, prolonged use in heavy rain or even immersion in water should be avoided.

Waterproof LED flashlights with IPX classes IPX4 to IPX6

A waterproof IPX7 flashlight, for example, can be submerged in a puddle and survive this undamaged if it is picked up again immediately. IPX8 flashlights can be immersed in water and survive just under several hours without damage. If the flashlight falls into a stream while hiking, for example, it will still work afterwards. If you want to play it safe and use the flashlight in the most adverse conditions or extreme outdoor activities, choose a waterproof flashlight with at least level IPX8.

If you're looking for a waterproof flashlight for your next underwater adventure, you should also go for at least the IPX8 standard. The exact depth and duration for which the flashlight can be safely used underwater can be found in the manufacturer's product specifications. Some specialized dive lights are designed for use at depths of several meters and have additional features to withstand the increased pressure at such depths.

Waterproof LED flashlights with IPX classes IPX7 to IPX8

What should you look for in waterproof flashlights?
Which waterproof flashlight is right for you depends on exactly what you want to use it for. Depending on the application, some of the following factors may be more important to you than others:


Waterproof: When choosing your new waterproof flashlight, look for the IPX class. This allows you to check whether you can go on longer underwater dives with the flashlight or whether you are better equipped for a hike in heavy rain.


Illuminant: LEDs are the most suitable illuminant for waterproof flashlights. For one thing, LED has a much longer lifespan compared to halogen, and for another, LED is much more robust.


Luminosity: Make sure the waterproof flashlight has enough lumens to produce a bright enough light. Depending on the product type, waterproof LED flashlights have up to several thousand lumens of luminosity and can achieve lighting distances of several hundred meters in some cases.


Burn time: Especially on long hikes or camping trips without many power sources, the battery or rechargeable battery life is important so that you are not suddenly in the dark. Whether you prefer a flashlight with rechargeable batteries or batteries is up to you. This has no effect on the water resistance.


Size and weight: Pay attention to the size and weight of the waterproof flashlight. Depending on what you have planned as your next outdoor adventure, a handy and lightweight flashlight is perfect.


Lighting modes: Check if the flashlight offers different lighting modes, such as SOS mode or strobe mode, to draw attention to you in emergencies.


Beam: A flashlight with a wide beam is good for illuminating a larger area, while a focused beam is useful for illuminating objects in the distance. Ideally, you'll be able to set different light beams on your new waterproof flashlight.


Operation: Make sure the flashlight is easy to operate, even with gloves on.


Ruggedness: The flashlight should be rugged enough to withstand shock and wear and tear, especially when used for outdoor activities or diving.


Salt water resistance: For use on the boat or in the sea, the waterproof flashlight should also be protected against salt water.

Advantages of a waterproof flashlight with LED over conventional illuminants
For many decades, flashlights were usually equipped with incandescent bulbs or halogen lamps as illuminants. In the meantime, LED technology has conquered the world of flashlights, because light-emitting diodes offer numerous advantages over conventional illuminants. LEDs require only a fraction of the energy of an incandescent bulb or halogen lamp with comparable luminosity. They can be operated with batteries or rechargeable batteries for long periods of time, helping to save costs and protect the environment.

In addition, LEDs have a very long service life. While it was common for bulbs with filaments to fail after a certain period of operation and have to be replaced, LEDs are very durable. For a waterproof flashlight, this is an added advantage, as replacing a bulb can compromise waterproofing. The small yet bright light-emitting diodes enable compact waterproof LED flashlights with high light output and long beam distances. Since an LED does not have a sensitive filament, it is insensitive to impacts and does not fail after a fall on a hard surface like some incandescent bulbs.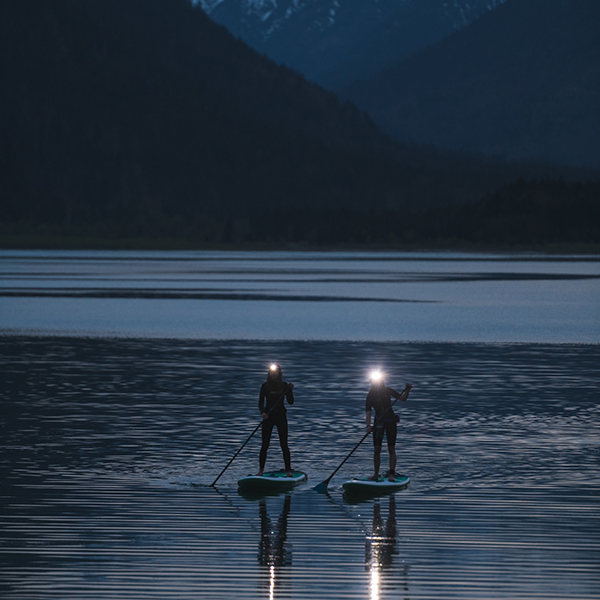 Underwater or outdoors: reach your destination safely with the right waterproof flashlight
Whether you're diving deep below the water's surface or hiking through dark forests in windy conditions: The right waterproof flashlight is your key to a safe and fun adventure. From luminosity to burn time to IPX rating, the selection criteria are varied and depend heavily on where the flashlight will be used. When camping, for example, a waterproof flashlight that can withstand moisture and splashing water will suffice - as long as it's not pouring rain when you're outside. However, to be prepared for all eventualities, you should opt for a waterproof LED flashlight with protection class IPX8, high luminosity and many hours of burn time. So it's best to think about the criteria your new waterproof flashlight has to meet beforehand. Based on this, you can quickly and easily find the best lamp for you and your adventures.