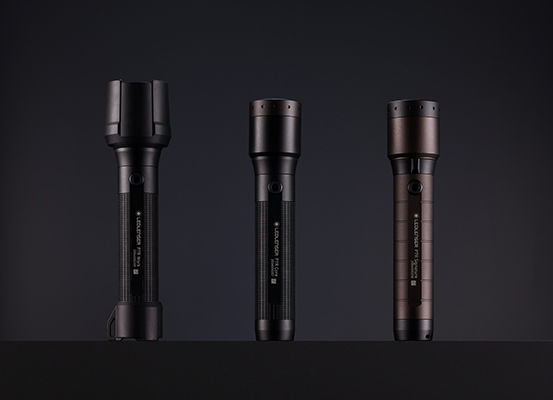 What are the lighting technologies for flashlights?
Incandescent bulbs have only low efficiency compared to xenon and LED. Not only is the luminous efficacy to be achieved lower, but the power supply is also more difficult, since incandescent bulbs - unlike xenon and LED - require rechargeable batteries or batteries that would have to be much larger in size for the same output and runtime.

In short, incandescent bulbs consume more energy while providing less light, since a large portion of the energy expended is converted into heat. For the reasons already mentioned, it is worthwhile to resort to a modern lighting technology. Contemporary lighting technologies that are commonly used in lanterns, flashlights and headlamps include
Xenon,
LED,
High power LED.
Important: When deciding on a particular type of light source, you should consider and weigh up what is particularly important to you in a lantern, flashlight or headlamp. In addition to the luminous range, homogeneous illumination at close range, different light modes and light colors also play a role, depending on the area of application.

But no matter which technology you choose: Before buying a new lamp, it makes sense to take a look at the differences between xenon, LED and high-power LED.
Flashlight with xenon
A xenon flashlight, lantern or headlamp is characterized in use by its enormous brightness and a very wide light beam. Unlike an LED, the light source of a xenon lamp does not have a diode. Instead, an arc is generated between two electrodes by a gas discharge, which provides light in the flashlight.

The effective range of flashlights and headlamps with xenon bulbs can be many hundreds of meters. The light color is similar to daylight and is suitable for enhancing contrasts in good visibility conditions. The energy consumption is lower than that of a classic incandescent bulb, which is why the power supply via rechargeable battery can also be smaller. The maximum luminosity is reached immediately after switching on. The service life of xenon lamps is about 2,000 hours.

One disadvantage is that the luminous intensity of the lamps decreases with age, which is particularly noticeable in older products. They are also less environmentally friendly than other lighting technologies and more energy-hungry than modern LEDs.
Flashlight with LED
An LED (Light Emitting Diode) is a semiconductor element from the group of III/V semiconductors in which the current can only flow in one direction. The heart of an LED, which can be used in both a flashlight and a headlamp, is the semiconductor crystal (LED chip) that produces the light. For white LEDs, a semiconductor crystal that produces blue light is combined with a phosphor layer that converts blue light into white light.

Advantages: LEDs are considered to be the much more environmentally friendly light source compared to an incandescent bulb and xenon lights, and are currently the most energy efficient light source. Compared to the conventional incandescent lamp, LED lamps save more than 90% energy. Like xenon bulbs, LEDs shine at maximum brightness immediately after being switched on and can tolerate frequent switching on and off without any problems. Their luminous color is variable and depends on the composition of the semiconductor crystals and phosphor layers that shine in the lamp.

A major advantage of flashlights and headlamps with LEDs is that they are insensitive to shock. For this reason, they are ideal for outdoor use both at close range and for illuminating distant objects. Their long service life of up to 50,000 hours (comparison: 2,000 for xenon, 1,000 for incandescent bulbs) and the lower purchase costs compared to xenon-operated lamps also speak in favor of this modern lighting technology.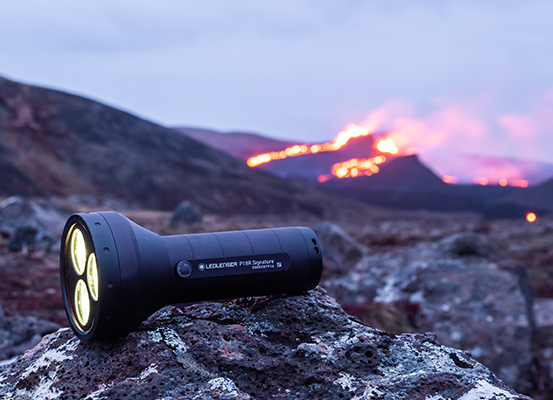 Flashlight with high power LED
One of the best-known manufacturers of LEDs that can be used in mobile lighting products is the American company Cree. Since its founding in 1987, the company has become one of the world leaders in its industry, producing LEDs with the highest efficiency and with a burn time of up to 100,000 hours. If used around the clock, a lamp would shine for over 11 years.

Today, there are a handful of LED manufacturers in the world that produce extremely efficient, long-lasting and bright LEDs. However, the LED producers themselves do not manufacture flashlights or headlamps, but only supply the LED technology or the light source for the respective manufacturer. We work not only with Cree but also closely with other LED market leaders and select the LED for each light that gives the best combination of light distribution quality, luminous range and battery life.
Differences between xenon or LED flashlights
Depending on the type of application, Xenon, LED and/or Cree LED offer individual advantages, which we have summarized below:
Brightness and luminosity
Xenon flashlights have a high luminous efficacy and exhibit a uniform light spectrum. LED flashlights, on the other hand, have a longer service life. Even brighter and overall more powerful than conventional LED flashlights are lamps equipped with a high-power LED from the best LED manufacturers.


Energy consumption and luminous period
Xenon flashlights have a higher energy consumption and therefore have a shorter burn time than LED flashlights. The battery of a xenon flashlight must therefore usually be charged more frequently or supplied with fresh batteries.


Heat generation
Xenon flashlights have a higher heat generation than LED flashlights. This can be unpleasant, especially during longer use, and can even cause burns to the palms of the hands.
Resilience
A flashlight must be rugged and durable, especially when used in outdoor activities or at work. Xenon flashlights are usually more resistant to a shock and low and high temperatures than LED flashlights.


Environmental compatibility
Xenon flashlights may - depending on the manufacturer - contain mercury, which is harmful to the environment. LED flashlights, on the other hand, are usually mercury-free and therefore more environmentally friendly because they are easier to recycle.


Price
High-performance LED flashlights are often more expensive than conventional LED flashlights, but they also last longer and usually have a longer runtime, sometimes several hours longer than a lamp with xenon or LED bulbs.
We have summarized the most important advantages of the respective lighting technology for you in the following table.
Xenon flashlights
LED Flashlights
High power LED flashlights
Advantages

bright and powerful light output
uniform light spectrum

high resistance to vibrations


Low energy consumption
instant on and off without preheating

environmentally friendly, since usually mercury-free


even higher brightness and luminosity than LED flashlights
very efficient, lower energy consumption than a conventional LED


Disadvantages

Relatively short lighting duration
high energy consumption

sensitivity to temperature fluctuations

contains toxic mercury


May have slightly higher initial cost than xenon flashlights
More frequent battery changes may be necessary if battery powered


higher initial cost than conventional LED flashlights
Can become hot with prolonged use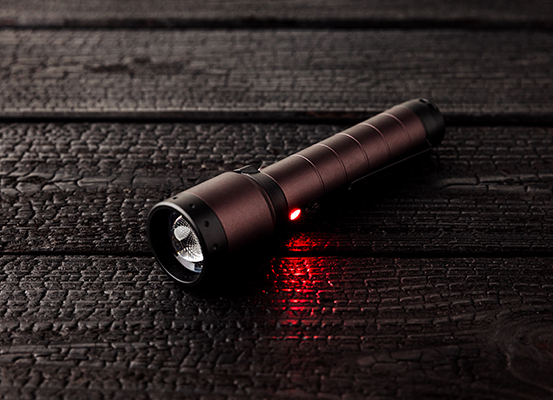 Conclusion: Xenon or LED flashlights - which is better?
Whether for professional use, everyday use or for hobby purposes: Xenon and LED flashlights offer enormous advantages compared to models with incandescent bulbs. In addition to a greater luminous range, a xenon or LED flashlight scores with a high luminosity, long service life and an overall better performance in use. At Ledlenser, you will find various flashlights for different areas of use, including outdoor & sports as well as home & life, which have their individual advantages depending on the model. What they all have in common is that they consume less energy than a Xenon lamp, which increases the lighting duration. At the same time, they are enormously reliable, as they easily have a service life of several years.