How small is the world's smallest flashlight?
Thanks to advanced LED technology and button cells with a high energy density, the world's smallest flashlight is no longer than a 9 mm cartridge and has an amazingly long runtime of 16 hours. So you can easily fit several of them in the palm of your hand. Despite the small size of just 3 cm and a weight of 6 g, the flashlight equipped with tiny batteries (button cells) produces a luminous flux of 15 lumens. While this light is not enough to illuminate a dark forest path with it, it is perfect for everyday situations where there is usually no normal sized flashlight handy. It's also worth mentioning that the housing is waterproof and the LED inside has a durability of 25,000 hours.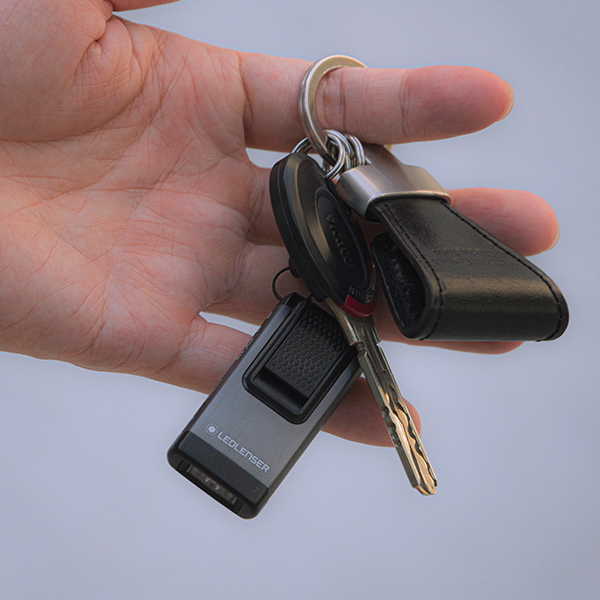 The technology behind mini LED flashlights
Without the use of an LED, it would be almost impossible to produce a mini flashlight the size of a cartridge. Conventional base bulbs of the same size would be much less powerful and give less light, but at the same time consume more power than an LED.

In addition to a power-saving light source that provides enough brightness in lumens to search for objects with the beam in the glove compartment, for example, batteries or rechargeable batteries are also needed that are small, powerful and lightweight. Due to advances in battery and circuit board manufacturing, it is now possible to build components that are small enough to fit into the housing of a mini flashlight.

These are the advantages of the smallest flashlights with LED lighting
Modern smartphones are equipped with a camera and use a power-saving LED for illumination. The smartphone camera can switch on a flash light when needed. The flash produces a bright light that you can also use as a flashlight. Nevertheless, mini LED flashlights offer you several advantages. They produce a much brighter light and can also protect your sensitive smartphone, which is an advantage in the rain or during outdoor activities in adverse conditions. The bright flash light, on the other hand, puts quite a strain on the smartphone's battery. This is especially noticeable in older devices with a weakening battery. Furthermore, the light of a smartphone radiates very broadly, which means it does not have a long range and can dazzle very quickly.

Moreover, even the smallest flashlight with fresh batteries is often superior to an old smartphone in the following aspects:

Luminosity
Brightness of the beam

Luminous duration

Mini flashlights have a low weight and are robust, durable and powerful despite their small size. In addition, a burn time of several hours at a time is almost standard. Since they are small and compact, you use the best alternative to the flashlight app of your smartphone.

Who needs the smallest flashlights?
In short, the smallest flashlight is suitable for almost any purpose and can be easily attached to a keychain due to its small size. In everyday life, it trumps big despite its light weight, and in almost any situation where you need light.

A mini flashlight with LED is always ready to hand and is suitable for

as a flashlight for camping as well as for outdoor activities and traveling

as a flashlight for the workshop to illuminate hard-to-reach areas, e.g. to detect defects on or under a car
for dog owners as a flashlight for walking to illuminate the way during the dark season
as a flashlight in case of power failure or to check the fuse box in case of a short circuit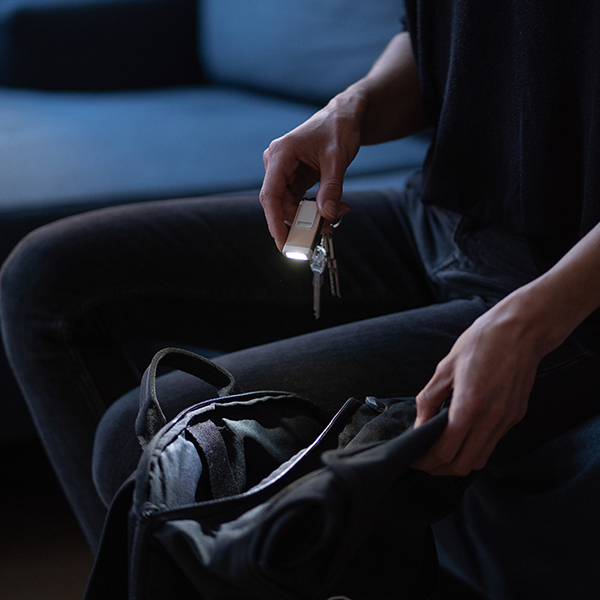 Conclusion: The smallest among the flashlights score with these advantages
Compared to flashlights of conventional size, the smallest flashlight in the world scores with several unbeatable advantages:
It is so small and light that you can always carry it on your keychain.
It is always handy and produces enough light to search for your smartphone or change even in complete darkness.

Even the smallest flashlight with 15 lumens of luminosity offers enough range to illuminate the fuse box in case of a short circuit.

When camping or doing other outdoor activities, you can use it to search your luggage or check your equipment.

As you can see, even a small but powerful flashlight serves its purpose in many situations - both in everyday life and in your free time. Because even the smallest light sources offer great scope for making them more functional, lighter and more durable, we at Ledlenser have been dedicated to the development of small flashlights for many years. Thanks to long-lasting and powerful LED bulbs as well as clever features, we design them to be so practical and ultra-compact that they can help you in any situation. Whether for use at home, at work or on your next vacation: The flashlights of the Ledlenser K series are, depending on the model, equipped with a rechargeable battery and therefore rechargeable. In addition, they offer a high luminosity of up to 400 lumens and come to a luminous range with which you can easily recognize even distant objects in the dark.