What situations require the use of a large flashlight compared to a more compact model?
In certain situations, a compact flashlight may not be enough because the intended use requires a more powerful model. In fact, large flashlights are used especially when increased luminosity and range are required. For activities such as outdoor adventures or night expeditions, large flashlights with their usually high number of lumens and long range are indispensable. These models not only offer better visibility in the distance, but also improved illumination of larger areas. While compact flashlights are ideal for everyday use, large flashlights offer powerful illumination specifically designed for demanding missions.

It's no wonder, then, that large LED flashlights are also commonly used by emergency personnel, such as police or rescue workers. In situations where quick and effective illumination is crucial, large flashlights not only provide excellent visibility, but can also serve as a self-defense tool. Their rugged design and powerful brightness can deter potential threats and provide valuable seconds to protect yourself in dangerous situations.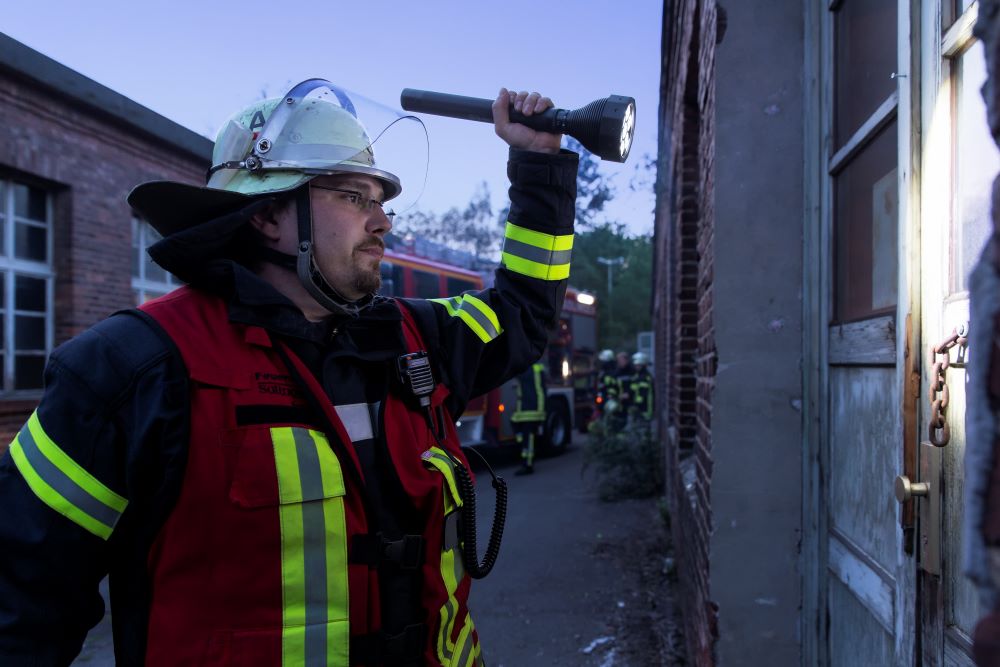 Large LED flashlights: what to look for when buying?
When buying a large LED flashlight, there are several factors to consider to ensure that it meets individual requirements. These include aspects such as brightness in lumens, range of illumination, burn time, width of the light cone, available light modes and additional functions. Rugged construction and ergonomic design also play a role, as does whether they use a battery or rechargeable battery as a power source, as well as whether they have and water-repellent properties.

When choosing, you should ensure that you are optimally equipped with the large LED flashlight for your planned activities. The following factors can be important when buying the flashlight depending on your requirements.

Brightness & burn time
Great flashlights not only offer impressive brightness, but also a long range. Thanks to modern LED technology, they can produce a high luminosity that makes it possible to illuminate distant targets. The number of lumens on flashlights indicates the brightness that the light produces. But brightness alone should not be the deciding factor. The burn time, which is the amount of time the large flashlight provides constant bright light, is equally important. This is especially crucial if you are relying on reliable lighting for several hours. Keep in mind that a larger LED flashlight does not automatically produce greater brightness than a smaller model. You can find the exact brightness of the luminous flux and the burn time in the product description of the flashlight.
Functions & Modes
A great flashlight is not only characterized by its impressive luminosity, but also by its versatility and practical functions. The models can be equipped with different light modes that you can switch depending on your needs. From a wide beam that illuminates the entire area to a focused beam that reaches far into the distance, these settings make the lamp adaptable for different scenarios.
Ruggedness & Endurance
Large flashlights are often designed for use in demanding conditions. Their housings are often waterproof and dustproof, ensuring their functionality in a variety of environments. Many models are equipped with powerful rechargeable batteries that provide longer burn time and are more environmentally friendly than traditional batteries. The robust design ensures that the flashlight remains ready for use even in case of shocks and falls.
Bright and versatile: The best large flashlights from Ledlenser
If you're looking for high-quality and large LED flashlights, Ledlenser is the place to go. With our models, you get innovative LED technology, impressive light ranges, and durable construction. Whether you need a flashlight for an outdoor adventure, for professional use, or for everyday use - we have the right light for all purposes.

We'll take a closer look at four of our best big lights:

Prices incl. VAT plus shipping costs
X21R: Ready for any challenge
At over 40 cm long, the rechargeable X21R is one of Ledlenser's largest flashlights. Let yourself be convinced by an extremely high light output with an impressive 800 meters of light range and up to 5000 lumens of luminous flux thanks to seven powerful Xtreme LEDs. Our X-Lens Technology synchronizes precise beams from multiple reflector lenses to create either a homogeneous, stage-like floodlight or an extremely sharply focused high beam. The flashlight features the Advanced Focus System, which allows for continuous focusing. The high quality Safety Ytrion Cell battery system provides over 5000 charge cycles without significant loss of capacity. With the Floating Charge System, convenient charging is quickly at hand. The X21R also offers ease of use with 7 light functions, 4 light programs, 2 energy modes and 1 multi-function switch.
P17R Core: Focus on practicality
The P17R is the largest flashlight in our P-Series Core. At almost 30 cm long, it is a model that impresses with its size and at the same time is tailored for everyday use in the home and garden. The lamps of the Core series impress not only with innovative technologies and functions, but also with the excellent price-performance ratio. Numerous settings and light functions, such as the flashing, SOS or strobe mode, make the P17R Core ready for various uses. It can achieve a maximum luminous flux of 1200 lumens and a range of 560 meters. Other features include Smart Light Technology, Magnetic Switch System and Advanced Focus System for perfect illumination in any situation.
Prices incl. VAT plus shipping costs
Prices incl. VAT plus shipping costs
P18R Work: The powerhouse for professionals
The P18R Work also impresses with its X-Lens Technology, which precisely synchronizes the beams of several reflector lenses. This gives you an extremely homogeneous, stage-like floodlight or a very sharply focused high beam - depending on your needs at work. The lamp head and the end cap of the flashlight with almost 10 cm head diameter are equipped with protective elements that not only absorb shocks, but also increase the slip resistance. The additional front lens protects the lens from scratches and splashes. Experience flicker-free, constant light that provides optimal and safe illumination, even when you're working with fast-moving parts and machinery. With our Smart Light Technology, you can personalize the light functions to suit your preferences. Our Advanced Focus System makes the flashlight infinitely focusable to give you the perfect cone of light. Best of all, the battery charges conveniently and safely thanks to our Magnetic Charge System.
P18R Signature: High-end in a noble design
The P18R Signature shines as the flagship of the P series with 4500 lumens, 70 hours of burn time and X-Lens Technology. It is considered a great flashlight for the highest demands. The LED flashlight can't really be called big due to its length of about 17 cm. However, its head with a diameter of almost 9 cm is one of the largest among flashlights. This is necessary to make room for the 3 Xtreme LEDs, which can produce up to 4500 lumens of light output. The powerful battery is charged with the Magnetic Charge System and has a quick charge function. You can also place the compact searchlight on the end cap to position it vertically on the ground or table. This way, even the darkest night suddenly becomes bright as day during your outdoor adventure.
Prices incl. VAT plus shipping costs
Great flashlights offer a great range of light, often reaching hundreds of meters. Equipped with their high number of lumens and modern LED technology, they provide days of light for various activities. Whether you're outdoors or on business, you'll need a large LED flashlight as a tool: The lamps provide reliable brightness for hours. They offer the perfect combination of power, ruggedness, and versatility. You can easily navigate in the dark with them, illuminate wide areas with the wide cone of light or prepare for unforeseen situations. Find your new large LED flashlight now at Ledlenser!