Mobile luminaires with LED convince with numerous advantages
Flashlights are basically mandatory for anyone who goes about their business at night. But even at dusk or in unfavorable lighting conditions, it is flashlights that ensure that darkness does not become an obstacle to efficient and safe work. Think, for example, of police officers, firefighters or security personnel, construction workers and other tradesmen - without flashlights, such occupational groups would not be as mobile as they need to be.

Until a few years ago, flashlights based on halogen lights or with xenon light were considered advanced solutions. But in the meantime, LED flashlights have gained acceptance in the professional sector, as they consume significantly less energy on the one hand and are much more robust on the other.

LED flashlights can withstand shocks and vibrations without breaking down. In addition, LED flashlights for professional use are usually designed to be waterproof and dustproof. In short, with an LED flashlight, you're choosing a piece of equipment that takes away the worry of being without light when you need it.
EX-protected flashlights - where there is a risk of explosion, special tools are needed
It is by far not only welders, gas fitters or drivers of oil trucks who are trained to work under explosion hazards. Occupational groups, for example in the chemical industry, hazardous goods storage or paint shops, are also aware of the risks posed by sudden ignitions and resulting explosions. Those who work in such potentially hazardous environments put themselves and their colleagues at risk with ordinary flashlights.

An EX-protected flashlight is a must wherever there is a need to ensure that disastrous chain reactions do not occur due to an excessively hot light source or otherwise released energy. EX-protected flashlight stands for explosion-proof flashlight, here the engineers have focused on eliminating hazards during development. Incidentally, significant explosion risks lurk not only with gas, oil and flammable vapors. Combustible dust, such as that produced in bakeries, metalworking shops or during wood processing, can also lead to explosions.
Safety standards and EX-protected flashlights
In the European Union, the so-called ATEX directives have been decisive since 2014 for the classification of how high explosion hazards are classified in which work areas. ATEX is the abbreviation for "Atmosphères Explosibles", translated from French as "explosive atmosphere". The ATEX standard uses an abbreviation to describe the specific environment.

The first number (0, 1 or 2) refers to mixtures of air and flammable gas, vapor or mist. 0 means constant or frequent explosion hazards, 1 occasional hazards during normal operation and 2 no or only short-term explosion hazards. The second number in the ATEX abbreviation is related to hazards from the mixture of air and combustible dust, here 20 stands for considerable and foreseeable permanent explosive environment. 21 accordingly means medium, only occasional danger and 22 a range in which dangerous mixtures of oxygen and combustible dust should only rarely or not at all occur during normal operation. This results in practical ATEX classifications in the form of 0/20, 1/21 and 2/22.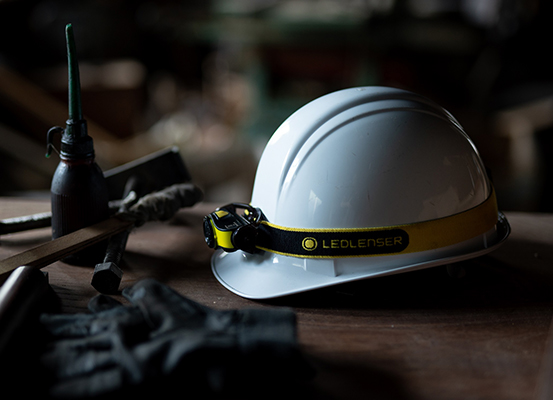 For example, imagine the hall of an oil refinery where trucks are unloaded. On the truck itself, the oil line and the (underground) tank, ATEX 0/20 applies, i.e. high hazard. In the immediate vicinity, it cannot be ruled out that gases will escape, so ATEX 1/21 must be assumed in this zone. Under the hall roof, on the other hand, flammable gases would only collect in the event of gross disregard of safety rules; ATEX 2/22 should be sufficient here.

The ATEX criteria are similar for grain silos or wood factories, except that here the explosion hazard is caused by combustible dust instead of vapors. When choosing your EX-protected flashlight, the ATEX classification gives you the decisive indication of which EX-protected flashlight with LED is the right one for the respective work area.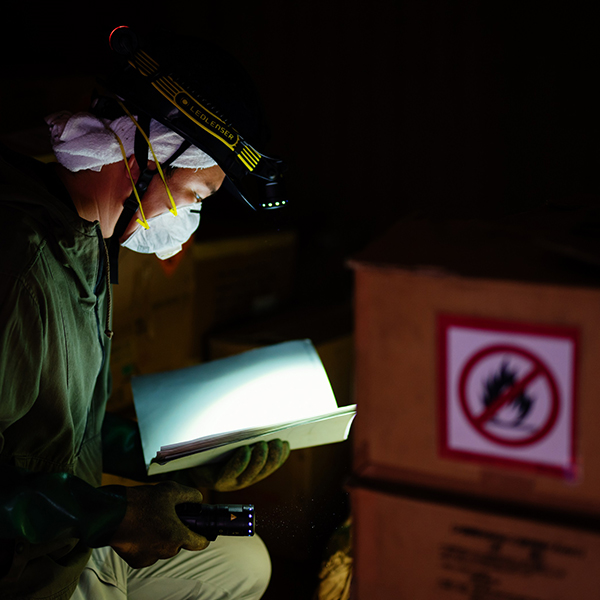 Professionals go beyond ATEX in their flashlight requirements
The EU's ATEX directives are undoubtedly the appropriate first point of reference for making sure you don't make a mistake when buying an EX-protected flashlight. However, anyone who has already gained practical experience working in potentially explosive atmospheres knows that there are additional criteria that the legislator can hardly put into standards:
Can the EX-protected flashlight be operated with gloves without any problems?
Can the light cone be adjusted in such a way that all situations, from a concentrated beam of light on a detail to more extensive illumination, remain easily manageable?
Integrated magnets and set-up mechanisms make it much easier to take the EX-protected flashlight out of the hand if necessary without sacrificing its luminosity. Of course, professionals also expect an EX-protected flashlight to be robustly built for everyday use and to run for a long time on a single battery charge. Keyword environmental protection: rechargeable lithium-ion batteries are possible for ATEX 1/21 and 2/22, avoiding the need to constantly dispose of batteries and thus protecting both the environment and the wallet.

In ATEX zones of type 0/20, however, this solution is self-explanatory; the reports about lithium-ion batteries and exploding cell phones or overheated laptops should be warning enough. For ATEX 0/20 with the justifiably highest safety requirements, common mignon batteries are therefore used for the EX-protected flashlight, which cannot self-ignite.
Explosion-proof flashlights from Ledlenser
In 1993, brothers Rainer and Harald Opolka founded their own company in Solingen, Germany, which quickly became the market leader in the mobile light sector. Ledlenser recognized the possibilities of LED lights earlier than others and now holds dozens of its own patents. While development work is done at its headquarters in Germany, production is based in China. This allows Ledlenser to offer advanced technology at fair prices, with major customers from Lufthansa to Deutsche Bahn testifying to the attractive concept.

In the special area of EX-protected flashlights, Ledlenser currently has two series (iL and EX) that both fulfill legal requirements and perfectly meet the more extensive practical requirements.
Prices incl. VAT plus shipping costs
Ledlenser iL4
The Ledlenser iL4 is virtually the entry-level model for an EX-protected flashlight. Like all other models from Ledlenser's il series, it complies with the ATEX Directive 2/22 and impresses with its luminosity of 80 lumens at a range of 50 meters. Built in the shape of a pen, the Ledlenser iL4 can be conveniently clicked onto a breast pocket and reliably provides mobile light in environments where there may be a risk of explosion.
Prices incl. VAT plus shipping costs
Ledlenser EX7R
For zones according to ATEX classification 1/21, the Ledlenser EX7R is recommended. Including its rechargeable batteries, the EX-protected Ledlenser EX7R flashlight weighs just under 230 grams, so it really is an auxiliary tool and not a ballast. The patented Advanced Focus System of the Ledlenser EX7R guarantees to focus the luminosity of up to 220 lumens on the details that are important at work. The large on and off switch, which can also be operated with gloves, proves: Here, professionals have designed an EX-protected flashlight that always convinces in professional use.
Prices incl. VAT plus shipping costs
Ledlenser EX7
The Ledlenser EX7 and the Ledlenser EX4 prove their worth in places where explosion hazards make particularly high demands on EX-protected flashlights in accordance with ATEX 0/20. The Ledlenser EX7 is the solution for those who want to vary the light beam using the Advanced Focus System and who cannot do without a wide range of mounting options for an EX-protected flashlight. The Ledlenser EX4, on the other hand, is an EX-protected flashlight that is a small everyday companion weighing just 65 grams and poses no risk even in environments where there is a direct danger of explosion.
Whichever EX-protected flashlight from Ledlenser you choose: At least a five-year warranty and after-sales security for accessories are just two of the supposed criteria that show you that Ledlenser thinks further than just the quick deal. A Ledlenser EX-protected flashlight will be a reliable and variable tool for mobile lighting solutions in potentially explosive working environments for years to come - and at an astonishingly low cost of purchase and use.