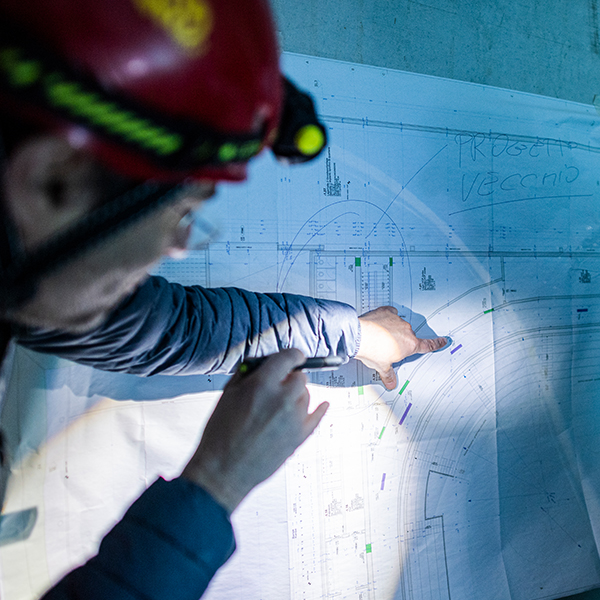 Rugged high-power LED flashlights for work
Just like having a teammate to help you on the job, a high-powered flashlight is a reliable companion. Ledlenser professional flashlights and headlamps have a high luminous range, a long-lasting battery and a waterproof and dustproof housing. Every LED flashlight in our Work & Professional range follows the same approach: we develop professional flashlights for everyday use that produce perfect light for every work situation. So, you can buy the ideal flashlight for your needs in our store.
What are the features of professional flashlights?
Every job brings new challenges every day, and a professional flashlight must be able to meet them. While emergency personnel or firefighters depend professional flashlights and headlamps with a high luminous intensity and range, in the workshop it's important that a LED lamp can produce, for example, a glare-free light or a highly adjustable light cone.

The most important features of high-power LED flashlights at a glance:

Easy and comfortable handling: a professional flashlight can be switched on and off, even when wearing full protective gear or gloves. For easy operation in all situations, Ledlenser models feature an extra-large magnetic switch.
Waterproof, dustproof and explosion-proof: thanks to IP68 certification, rainwater and fine dust cannot penetrate the housing. This is extremely important for use in wind and weather or in ATEX classified areas.
Robust quality: professional flashlights are designed to be impact resistant and to withstand strong vibrations, without compromising their performance.
Powerful and functional: a high-performance Ledlenser headlamp, flashlight or work lamp has a high luminous range of up to 720 m, depending on the model. In order to illuminate every corner of larger, completely dark areas, Ledlenser flashlights such as the P18R Work have a maximum luminosity of 4,500 lumens. Because of its patented AFS (Advanced Focus System), a Ledlenser flashlight can also instantly switch between a focused high beam and a uniform close-range light.
Low weight, compact size: whether you operate your professional flashlight with conventional batteries or rechargeable batteries, Ledlenser flashlights are so light and handy that they fit easily in your backpack. You can use the clip, headband, chest strap or carrying strap, so you always have it safely in hand. Or you can use the magnet to attach it to a metal surface.
A wide range of professional flashlights with high quality and performance
It fits like a glove, but it can do so much more! You'll find the ideal professional flashlight for your needs in our range for every job and all working environments Are you looking for an ergonomic headlamp or a compact construction spotlight with a brightness of 4,500 lumens and do you need the right accessories in the usual high Ledlenser quality? Then just browse our store.

Practical: you can also compare the different models with each other. This way, you can easily find the right light at the best price that perfectly fits your needs and your budget.

Prices incl. VAT plus shipping costs
Prices incl. VAT plus shipping costs
Prices incl. VAT plus shipping costs
No longer available
€67.90

€84.90

(20.02% saved)
How much do high-performance flashlights for professionals cost?
Buying a professional-quality flashlight doesn't have to cost a fortune. This is certainly true for Ledlenser flashlights, which will make your job easier for years to come.

Compared to models for private use, a high-power LED flashlight has a number of useful features that involve more development and material input. Because of their additional comfort and high quality, these models are a little more expensive, but in the long run, this purchase is guaranteed to pay off. In the Ledlenser store, you can find Pro flashlights in the 24.90 euro to 429 euro price range.
Prices incl. VAT plus shipping costs
Prices incl. VAT plus shipping costs
How can you find the best professional flashlight?
The best flashlight is the one that 100% meets your requirements. We're happy to help you, whether you need an especially bright, durable or compact professional model. In our wide selection, you'll find the ideal high-power LED flashlight for your needs. The numerous search filters in our online store will help you select the right flashlight, without exceeding your budget.

You can choose which of the following features are most important to you:

A high luminous range
A long battery runtime that last for many hours or even days
A flexible power supply that uses conventional batteries, rechargeable batteries or a USB-C cable and powerbank
Features such as the patented Advanced Focus System, Magnetic Switch or Backup Mode